"LIVING WREATH" Nancy Style
(Completely Different Instructional Video on Making a Living Wreath – My Style)
There are so many different wreaths online today — more than you can imagine! There is one, however that always stands out above the rest.  That is a "Succulent Wreath", or also called a "Succulent, Living Wreath".
Since Ladybug Wreaths style has and will always be different from most, I decided I would film my latest video for you on the subject of Living Wreaths.  But, of course, this one IS different.  I had to use Succulents in mine because I love them so much myself!  There are many different shapes and sizes, as well as different colors.  They DO look beautiful in a living wreath.  But the one thing I did not like about the normal type of "Living Wreath" is that it is made onto a tight base of wire packed with potting soil, and then wrapped tightly with living sheet moss and copper wire.  The small, thin roots of the succulents are tucked into slits in the moss where they begin to grow — filling out the wreath beautifully.
Okay, now I know you must know what I think (that is… if you know me at all)!!  Although beautiful, that type of wreath is way too tight, too formed, too round, too perfect… and too small for me.  You know…It really HAS to be "Wild and Woodsy" to suit my taste.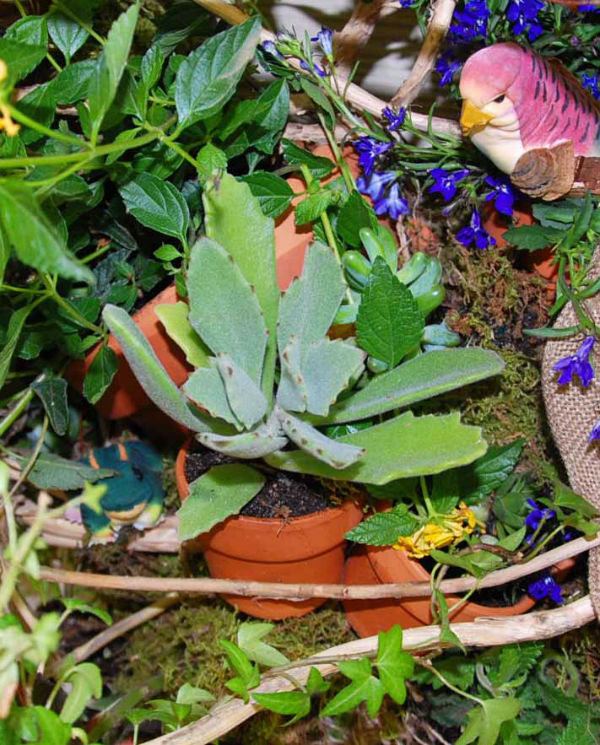 So, as you can see in the picture above I designed a "LIVING WREATH" Nancy Style.
I have made these before, but never to this size or scale.
I loved making this one for you!  I think YOU will love making them too.
As you can see in the pictures below, there are many different elements
used in My Own "LIVING WREATH"
I start with one of our Ladybug Wreaths Exclusive "Wild Birch Wreaths"
Then, to that wreath I begin adding many loops and curls of fresh Honeysuckle Vine
And in these many loops and curls, clay pots, as well as clay pot shards are tucked throughout.
As you can see in the pictures above and below there really is a lot of fresh honeysuckle!
I love using it in a wreath, but also in a wreath like this one, it is necessary.
The loops wrapped around each pot and when glued with hot glue and fresh moss
they are really secured tightly into place.
Under some of the larger ones, I add clay pot shards for extra strength.
If you could get your hands on this wreath and shake, jiggle, and pull
these clay pots, you would be surprised to find that they DO NOT move – at all!
Thank you SO VERY MUCH for joining me as I made this beautiful wreath!
If you would like to learn to make one for yourself,  just click on the link below for more information.
https://ladybugwreaths.com/how-to-make-a-succulent-living-wreath/
Enjoy!  Smiles…. Nancy