Wreaths Designed by Students – Breathtaking!
WOW!! What a  TOTALLY Amazing Day!
Last Thursday, March 7, 2013 women drove many miles for a "Studio Day With Nancy"!  As you can see from the pictures below, my studio was filled with happy ladies learning to make beautiful wreaths!
And…yes, even my business partner, Linda Joseph made an exquisite wreath.  She said she wouldn't know how, had no desire to, and would never do it.  But, she was very proud of herself when she finished her own beautiful wreath!
These ladies drove to Nancy's studio anywhere from 200 to 550 miles to attend this very special "Studio Day With Nancy"!
Many excited workshop students arrived at my studio by 9 a.m. sharp ready to begin their day of learning"wreath design".  I believe I was just as excited as they were as we were getting my studio set up to hold 8 inspired, & talented would-be "artisans"!
Four ladies took the class, Linda was talked into taking the class at the last minute, Kim (my very talented design assistant) was ready to assist wherever needed, and Beverly (a friend & coaching student) was enlisted to take pictures all day.  Oh, and I mustn't forget my friend and neighbor, Sandy, who delivered our catered lunches – yummy!
Easels were spread around the studio and hanging on each, was the cutest "ladybug" bag filled with their supplies for the day.  Flower bouquets had been laid out in different colors for each to choose from, as well as several different choices of ribbons.
There was excitement in the air as the instructions began!  Kathy, Mary Helen, Elaine, and Sharon were holding stems and wire cutters in anticipation of where to start.  These amazing ladies watched as I talked about the first steps in making a wreath.
LOOK AT THESE GORGEOUS FINISHED WREATHS – THEY ARE BREATHTAKING!
Top Left:  Sharon Jamison from Sumter, South Carolina 
Top Right:  Elaine Carroll from Martha's Vineyard, Massachusetts
Bottom Left:  Mary Helen Patterson from Manakin Sabot, West Virginia
Bottom Right:  Kathleen Hegenberger from Johns Island, South Carolina

At least two of these ladies had never made a wreath before, and the other two had minimal experience in wreath design.  Can you believe that each of these ladies left with these absolutely AMAZING wreaths.  They can put them on Etsy, or on Facebook right this very moment and receive great prices for them – that is if I can talk them into putting them up for sale!  These wreaths are probably already hanging on their doors… lol.
Each one wants to eventually begin a business venture making and selling wreaths. They have really gotten off to a great start, don't you agree?
Now I KNOW You're Been Waiting to See This One Above – Made by Our Own Linda Joseph!
As Linda said in her video interview with me:  "Now there's a lesson here folks," says Linda,  "If I can do this, anybody can do this.  So, if you're really thinking you can't make a wreath… FORGET IT!  With Nancy, Kim, and her whole team, you got it made! If I can do this — anybody can do this!"
And, I have to agree with Linda.  She is absolutely right.  If Linda can make this gorgeous wreath (a lady who didn't know a single thing about wreath making at all), then you can certainly do this with our how-to instructions.
"IN A STUDIO DAY WITH NANCY"
"You CAN Turn Your Passion Into Profits"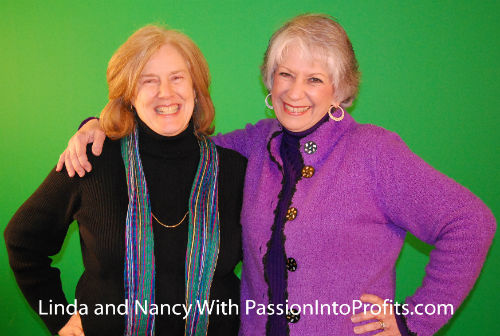 Do You Want Immediate Feedback on Your Wreath Designs?
Do You Want to Have an Etsy Story and a Facebook Page Set up For You?
Do You Want Hand-on-Help as You Learn to Make Your First Wreath?
Do You Want to Have YOUR Wreath For Sale On Etsy Before Leaving?
Do You Want Personal or Group Coaching as well as Workshops?