We Recently Hosted a Tea Party at My House!
I'm So Sorry You Couldn't Join us!
But, You Can Download and Watch
Videos of the Whole Event Online!
We kept the video camera rolling during each presentation.
You asked for recordings of this very special day, so we made it happen!
Just look down below and Click on the Button to Get Yours!
Ladies Enjoyed a Table Full of Delicious Southern Food
Beautiful Fresh Flowers
I got to meet so many beautiful ladies who had traveled many miles to attend our Tea Party!
Many business decisions were made that day as ladies decided to expand and grown their businesses.
Attendees learned how to expand their businesses in two different ways!
Couldn't Join Us?
Videos are the Next Best Thing!
Presentations by Sims Pottery.
Learn a new technique in using Deco Mesh.
Learn new styles, colors & trends.
Lauren Schuman told us how she and her husband started their Amazon Business.
Many left prepared to start their own Amazon FBA business.
Meet My Special Guest Experts

Meet Stacy Sims & Laura Miller From Sims Pottery
The morning presentation was very exciting as Stacey discussed new colors, styles and trends for the year. And, Laura showed us how to use brand new, trending techniques in designing with Deco Mesh.
Our guests learned what is most popular right now, and what they foresee to be continuing to drive floral designs in popularity for the future.
Laura gave exciting and detailed demonstrations while using Deco Mesh.
Our guests also received a very special gift from Sims Pottery!
Lauren Schuman Told us How She and Her Husband Started Their Own Amazon Business
Lauren told us in detail how she and her husband, Tom, have knocked it out of the park when starting and growing a profitable Amazon business.
Lauren and Tom started from nothing, and after only 22 months have grossed over three quarters of a million dollars!
Lauren and Tom first set a goal of $1000 per week.  Within 10 weeks they were far exceeding this goal, and boosted their sourcing to $1,000 per day, bringing in sales totaling over $100,000 in 3 short months!
Although Steve and I already bring in over 6 figures per year on Amazon, we were so excited to learn how Lauren and Tom set up their business.  I'm sure you will also want to learn how to start your own Amazon business from scratch.

Our Tea Party Visitors Received A Very Special
Bonus Gift From Chris & Heather
(You Will Too!)
30 Minute Amazon FBA Business Quick-Start Coaching Call & Discount Code
On your complimentary 30 minutes coaching call we'll answer all of your Amazon business questions, and put you on the quick-start track to setting up your business, if that's the direction you decide to go in.
You'll also get an exclusive 50% off coupon code for our in-depth quick-start one-on-one coaching, and access to our daily list of great online product finds that you can purchase and resell on Amazon!
We invite you to use this coupon code when registering and you'll get our coaching and product finds service for 50% off for the first 3 months! That gives you plenty of time to get your business off the ground and making profit!
Listening Intently To Lauren's Presentation

Delicious Southern Lunch!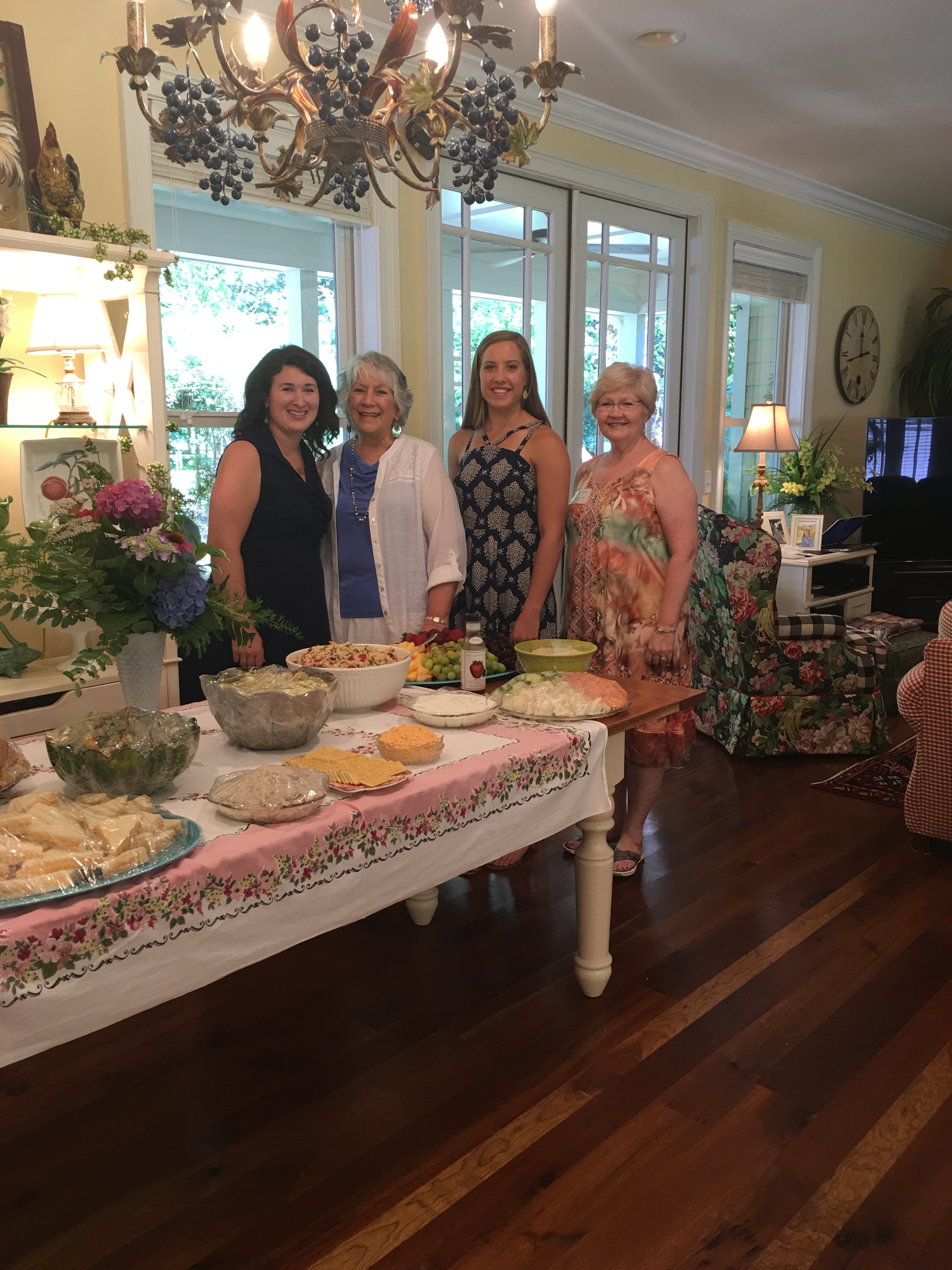 Everyone Who Attended Learned So Much!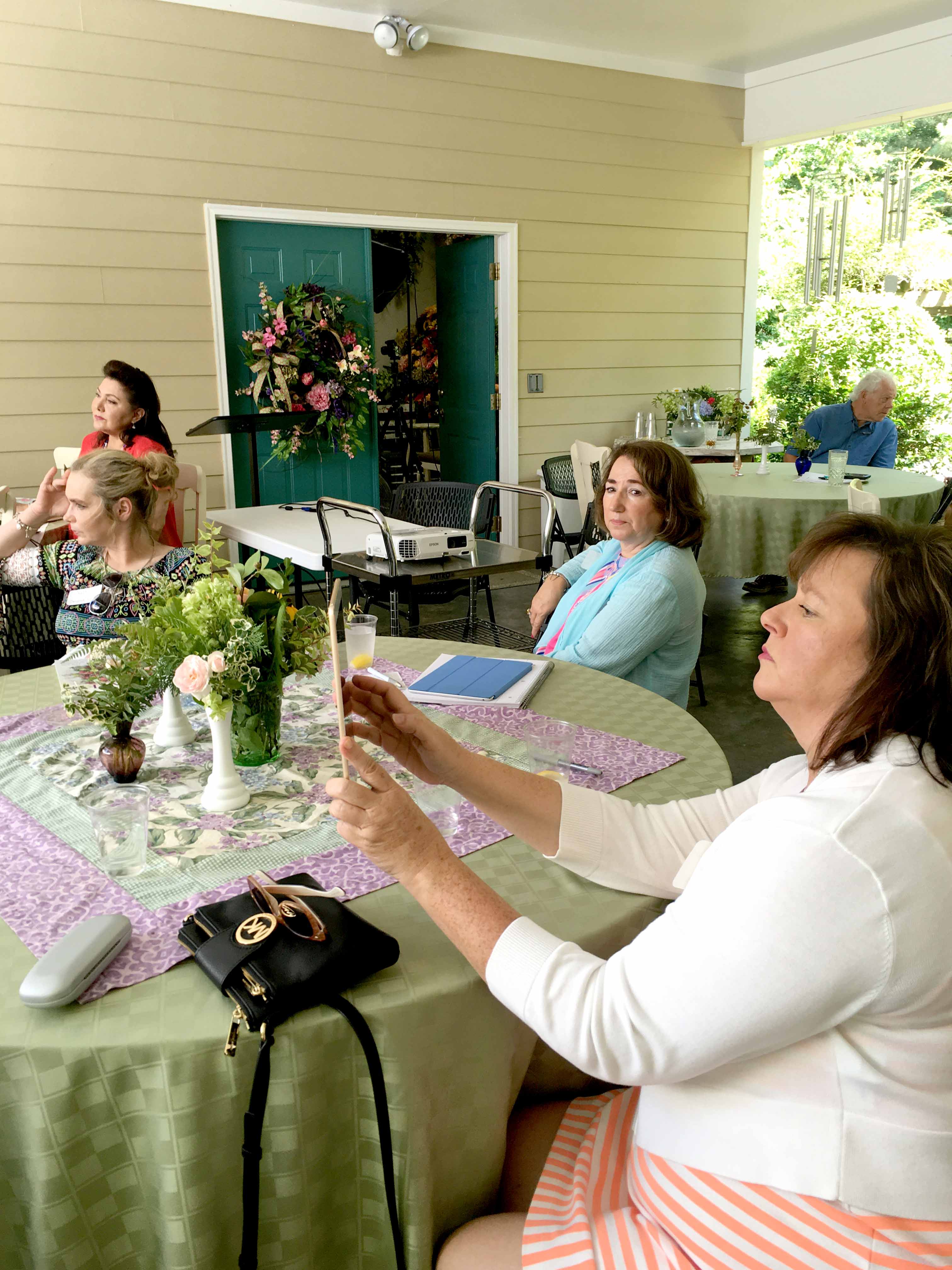 What a Couple of Guests
Had to Say About the Party!
We've never actually hosted this Tea Party at our home before.
But we are SO happy we did! What an Awesome Day!
Hallie Wells

I drove all the way from Newburgh, Indiana to Anderson, S.C. To Nancy Alexander's Tea Party! Had a wonderful day of learning, meeting Nancy, her family and making new friends! Became inspired by the speakers and I definitely was in awe of the beautiful surroundings!
Wow… have I been busy since returning from our Tea Party! I was so inspired by Nancy's organization and the beauty of her studio, her home and the drop dead gorgeous wreath designs that I saw!
I can't wait to try the new techniques for making Deco Mesh wreaths and garlands that we learned from the Sim's Pottery demonstration! I'm also very excited to learn more about selling on Amazon after hearing how it has changed Lauren Schuman and her family's life! I don't even need a lot of money so I am really ready to get my feet wet and jump in, especially since Jim Cockrum gave every one of us his PAC course free which is worth thousands. I am so grateful!
You know, they all gave God the glory for their accomplishments and were so encouraging and let us all know that our talents are from God and how important it is to use them. I am so glad that I went, I loved meeting, Nancy, her family and the other ladies! It was a very special day gave me a new outlook on my life and business.
I really hope I can go again someday and that all of you can too!
Ginger Choice

I loved being at the tea party! For me, it was simply thrilling to be at your home and meet you, your husband, Stacey and many other people I have heard you talk about so many times.
Seeing your wreaths in person took my breath away. And having you look me in the eyes and walk me through "what's the worst that could happen" if I posted my wreaths on Etsy was exactly what I needed!
Thank you for the opportunity to be with you at your beautiful home and see where you create beautiful wreaths and where your videos are filmed.
The luncheon, presentations and gifts were fabulous! You are an amazingly talented, smart and generous Christian woman whom I admire more than you will ever know.
When I tell others how fully and graciously you share your knowledge with ladies like me, they scoff and say that "No successful person would willingly give their secrets away". I just smile and say, "You don't know Nancy." Lots of love!
For Those Who Couldn't Attend My Tea Party
How about the Next Best Thing?
Here's what you get when you place your order for my Tea Party package:
Devotional by Rhea Perry Video and PDF
Presentation by Sims Pottery Video
Presentation by Lauren Schuman Video and PDF
Free 30 Minute Amazon FBA Business Quick-Start Coaching Call with Chris Rizzo of DailyFBAFinds.com & 50% Off Coupon
THE PRICE IS ONLY $97!
BEST OF NANCY MEMBERS PAY ONLY $47.00!
Get Instant Access to the Videos and PDFs Order Today!
Not a Best of Nancy Member?
Join Now to Save $50!
(For just $19.97 per month you can join our Community,
Best of Nancy where artisans learn how to sell online.)