How to Make Plantation Charm Door Wreath


I am Thrilled! This is Quite an Honor!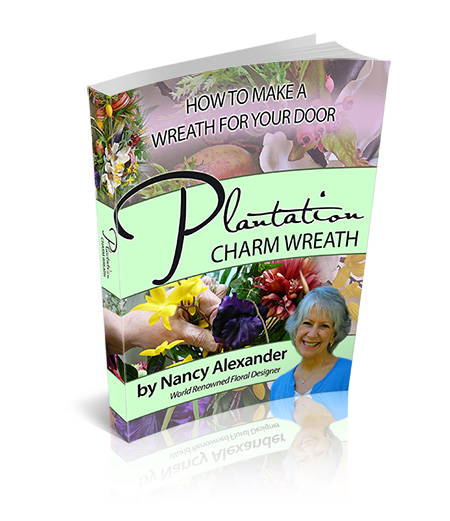 From Ladybug Wreaths: How to Make a Wreath Physical Book "Plantation Charm"
CLICK HERE to Purchase
Plantation Charm for $26.97
"Plantation Charm" will teache you HOW TO MAKE A WREATH.

We spent many hours taking pictures and writing descriptions as I made this beautiful wreath. This how-to instructional, physical book does not leave out a single step in the design process. Of course, we started with one of our exclusive "Wild Birch" wreaths as a base. Then we used loops and curls of freshly harvested honeysuckle to give this one a wild and natural look.
Let me show you how easily it is to twist loops and curls of the fresh honeysuckle vine into your wreath. I really LOVE the magnolias along with fruit in this one. I believe it's one of my favorite combinations! We have grape clusters, a banana, peaches, lemons, eggplant, as well as much, much more.
A wreath such as this one would be beautiful in any room in your home – yes, even your bedroom. Fruit isn't just for the kitchen anymore!
CLICK HERE to Purchase
Plantation Charm for $26.97
This physical book is filled with 162 pages of large crisp pictures, and very detailed descriptions of each and every step. I made sure that it includes everything you need to know whether you are an experienced designer, or just getting started.
Plantation Charm will provide you with all of the instructions you need to create a large, beautiful, and very detailed Door Wreath. You can tell by the pictures above that I make sure to show you everything I do. Many of these pictures are large, and very close-up so you will not miss a single thing. The physical book, will allow you to view instructions at your own pace. You can stop on each page as long as you like, and go over instructions as many times as needed. You can also print a copy of this book in its entirety, if this is more convenient.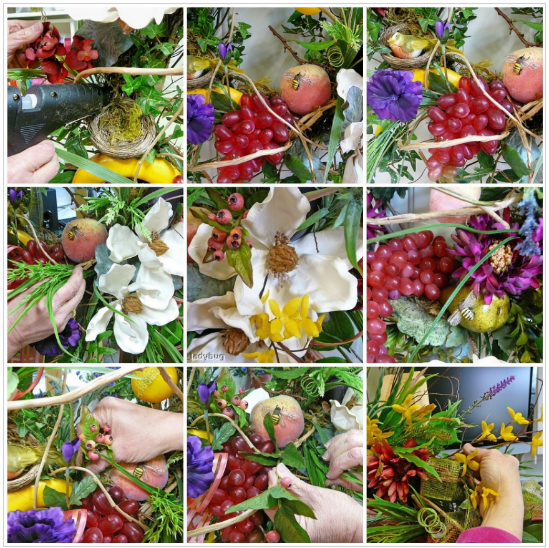 The wreath you will be designing is absolutely charming! If you want to learn how to make a wreath, then this is the one for you! I used many elements in this one to give you experience in learning the different techniques of wreath design.
In addition to the loops and curls of fresh honeysuckle, you'll learn how to add larger flowers such as the beautiful white magnolias we have chosen. Fruit is anchored in such a way that it will never come loose. As a matter of fact, everything that we anchor into our wreaths is there to stay! That is why we have such a good reputation that our wreaths last until you are actually tired of looking at them! lol
I am sure you will have so much fun working on this beauty with me, and when you're through, I guarantee that your friends and neighbors will be wanting you to make wreaths for them. Many of my customers go one step further, and start making and selling their wreaths either in their hometown, or on the Internet like I do.
You can purchase your own supplies in colors which match your decor. With my instructions, it will be very easy to substitute your own supplies by descriptions. So simple, in fact that you can view the pictures, then purchase the stems, birds, critters, etc. that you want to use.
For this size wreath, you can substitute same or similar size flowers in any colors. You can also use these same instructions to make a much larger wreath. The detailed steps you follow will be the same whether making a small or a large wreath.
I am thrilled to be able to share with you the tips and secrets that I've learned and developed over the years.
Note: Buy Now! – Free Shipping with Amazon Prime!
Watch me make a summer door wreath here.