Missed You at My Tea Party!
Hope you can come next time.
Here are a few photos you might enjoy!
People Drove From Far and Wide
Excited to Visit Steve & Me In our Home!

I am so sorry you didn't get to join us!  Steve and I were honored and so happy to welcome many to our home just a little over a week ago.  We had a fabulous day filled with smiles and laughter as we got to know each other. Ladies got to tour my studio, our home, and our garden.

And, of course, we all enjoyed a scrumptious "Southern" lunch!
 Lauren Schuman Shared How They Grew a  Profitable Amazon Business

in 22 Months

!

Lauren's presentation was exciting as she shared how she and her husband, Tom, started an Amazon business only 22 short months ago.  As of now, they have grossed over three quarters of a Million dollars.

Lights were turned on for MANY as they left my Tea Party that day knowing they could add another Income Stream to the business they already had.  Steve and I were excited as we learned how to grow our 6 figure Amazon business to even more!
Of course, Jim Cockrum's "Proven Amazon Course" was a surprise bonus to all attendees. With his PAC course, you have all the training at your fingertips to start an Amazon business from scratch!
Stacey Sims and Laura Miller of Sims Pottery
Put on an Awesome Deco Mesh Demonstration
And Discussed NEW Trends, Styles & Colors!

Of course, all ladies left the tea party excited to be trying out the brand new style of Deco Mesh design they learned about through  Stacey and Laura. 
It was so very informative!  You'll be seeing many new deco mesh wreaths soon from the ladies who attended the Ladybug Wreaths "Southern Tea Party!"
---
Here's what a few Tea Party attendees had to say
about our "Southern Tea Party…"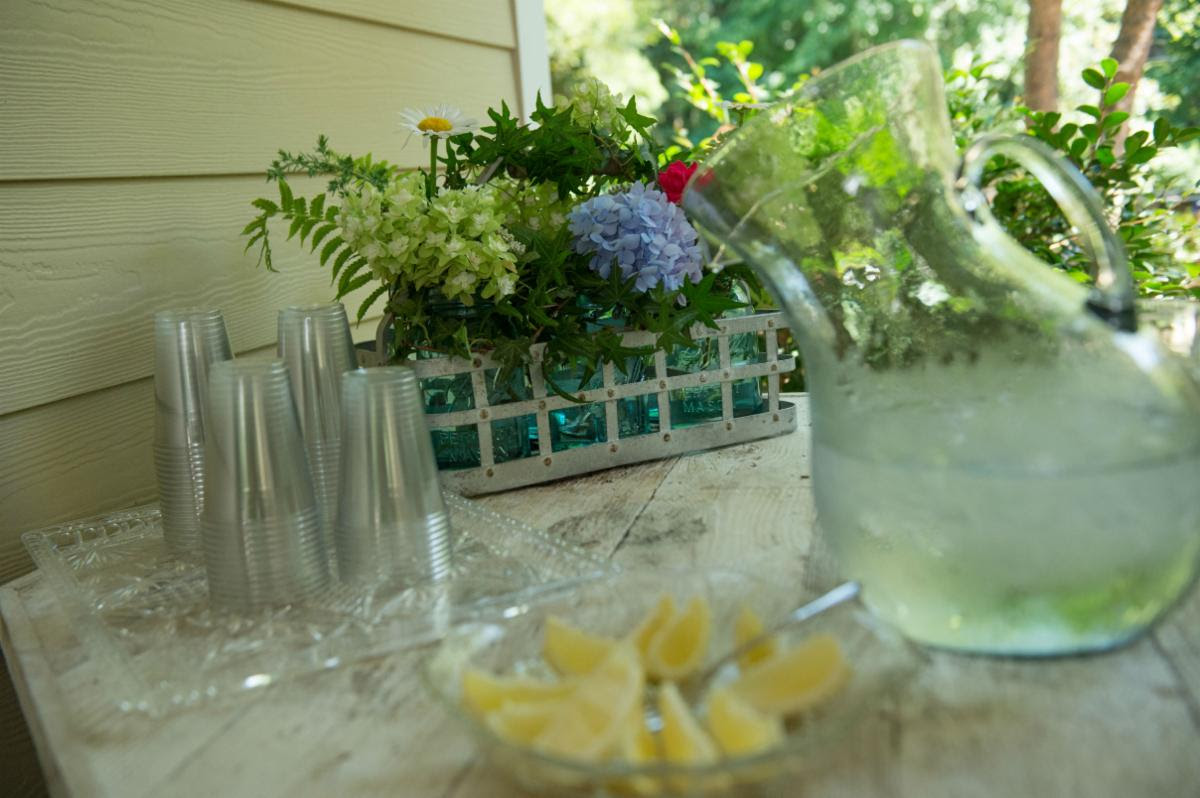 "I am so glad I took the opportunity to meet you. The Tea Party exceeded my expectations.
I have decided to move forward to expanding my deco mesh wreath business. Thank you for opening your home and expertise to me and the others." ~Anita Hairston
---
"I drove all the way from Newburgh, IN, to Anderson, SC! Had a wonderful day of learning and meeting Nancy, her family, and friends!
I was so inspired by Nancy's organization and the beauty of her studio, her home and the drop dead gorgeous designs that I saw! I became inspired by the speakers and was in awe of the beautiful surroundings! Hope I can go again someday!" ~Hallie Sue Wells
"I loved being at the tea party! For me, it was simply thrilling to be at your home and meet you, your husband, Stacey and many other people I have heard you talk about so many times.
Seeing your wreaths in person took my breath away. And, having you look me in the eyes and walk me through "what's the worst that could happen" if I posted on Etsy was exactly what I needed!
Thank you for the opportunity to be with you at your beautiful home and see where you create beautiful wreaths and where your videos are filmed.  The luncheon, presentations and gifts were fabulous!  You are an amazingly talented, smart and generous Christian woman whom I admire more than you will ever know.  

When I tell others how fully and graciously you share your knowledge with ladies like me, they scoff and say that "No successful person would willingly give their secrets away".  I just smile and say, "You don't know Nancy."  Lots of love… ~Ginger Choice
————————————————
"Such a wonderful group of people! Thank you Nancy for an amazing event! I came home SO inspired! And, my flight was great thanks to your new book!
Laura's wreath-making skills rock! I hoped she'd come back to Texas with me. Happy that Stacey brought some of his products as I now have a new source for quality deco mesh, ribbons, and signs. He gave us insight into new products coming out, as well as new ideas in wreath designs. Did I mention the gift bags… amazing!
Oh, and I can't wait to try my hand at selling on Amazon! Lauren's presentation was great and gave me what I need to begin!" ~Susan Leazure
"Reach for the Sky & Learn to Fly!" 
"Remember… You CAN do it! I know you can!"
Blessings, Nancy
Overcoming Fibromyalgia & Celiac I Now Teach Others to Make Door Wreaths & Sell Them on the Internet!
Latest posts by Nancy Alexander (see all)