We Reached 1,000 Members Today!

So many inspiring, encouraging posts, questions, and comments have been
going on in our closed Facebook Group "Grow With Nancy"

Talk to the experts and professionals. Ask questions about any problems you may be experiencing. We want your business to flourish as your dreams come true. Let us teach you how to sell your designs online as we encourage all your creative and artistic goals.

Today…
Susan Ferko is sharing some of her inspiring Etsy tips. In case you didn't know, Susan is our Etsy expert, and very good at what she does!
Lauranne F. wants to learn about taking photos of her wreaths. Which is most important, the camera, the editing software, the backdrop, or the lighting?
Awilda C. has questions about how to price her wreaths, and also how to charge for custom orders.

And… I have recently posted a new video titled:
"Grow With Nancy… Grow Your Confidence..
https://www.facebook.com/groups/GrowWithNancy/
Note: We Have a BIG Surprise Announcement Coming Soon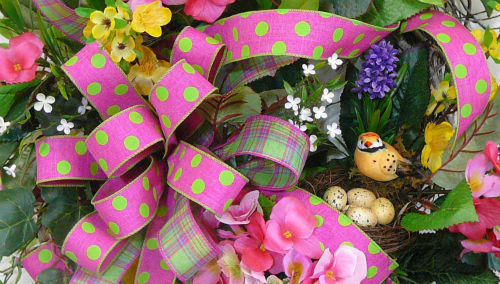 I absolutely LOVE designing wreaths this time of year. There is ice outside, and temperatures in the single digets, but thoughts of Spring are in the air.

You ought to see my studio! It is so bright, and full of color, new ribbons, new blossoms, birds, & critters. A brand new shipment of ribbon just went out to our Amazon store. You can check it out by clicking on this link.
"Grow With Nancy"
Really Can Change Your Business!
Let Us Help YOU!
We can't wait for you to join us in our awesome new Facebook Group! Our goal is to help ladies like you learn to sell handmade items online. This includes wreath – makers, crafters, as well as all other artisans.
My dreams are to also open your eyes to more creative ideas with multiple streams of income. This group is a community designed to offer beginners and veteran crafters opportunities to grow and sell in areas you never dreamed of.
"GROW WITH NANCY"
Is Free! We Give Away Free Stuff!!
GROW WITH NANCY is Becoming "The Place To Go" to…
Learn How to Grow Your Business
https://www.facebook.com/groups/GrowWithNancy/
Quotes From Happy "Grow With Nancy" Members:
"I have always loved making wreaths and floral arrangements. I also have fibromyalgia and have been through a lot of highs and lows with my health. Love your work, Nancy and admire your spunk!!" ~Edye
"Good Grief, I don't have time to make wreaths anymore. It's a full time job just reading all the posts on this site, and I am not about to miss one. I am learning so much from others. Good to see Facebook pages of other members. Love it! Thanks Nancy"
"Wow, Nancy, what an inspiration… I have to read this site first thing each morning. There are some beautiful wreath makers out there and I am enjoying and learning a lot from their work. Thanks so much to you for being there for us. You are a beautiful Person." ~Shirley
"Thank you for the invitation & add to your new group! Mrs. Nancy, you were my first inspiration when I developed an interest in wreathing about 3 years ago
."
~Karen