World-Renowned Designer
Adds

More Secrets in
Her Latest Rewrite of
"My Secret Vendors"

Over two years ago I released my "Secret Vendor List".
It Became A Best-seller!
Read a Few Samples Below of What Customers are Saying
Who Have Purchased The Book:
INVISIBLE_TEXT
"Nancy's Secret Vendors are Wonderful!"
I did purchase from some Vendors previously. Your secret vendors are WONDERFUL, thank you for the recommendation. There is a great savings compared to floral supply houses in MA. It was very easy to order with your companies. I received prompt shipping and quality products. Two hours a week of "you", time goes by so fast, you have been so valuable to me and I am blessed because of it.
– Elaine C –
Secret Vendor List Buyer
INVISIBLE_TEXT
INVISIBLE_TEXT
"Best Investment I Ever Made!"
The "Secret Vendor List" was the Best Investment I ever made. I definitely have saved a lot of money by purchasing directly from one favorite vendor, and will be returning to them again for future orders. Shipping is fast, and shipping charges are reasonable. You have taken the fear factor out of approaching many vendors. I know I would not have done so if it wasn't for all the details you give for each vendor. It truly is a wonderful list!
– Eugenia L –
Secret Vendor List Buyer
INVISIBLE_TEXT
INVISIBLE_TEXT
"Great Resources!"
Not only has it saved me tons of money, it has given me a resource to purchase Deco Mesh. There are very few stores in my area who carry mesh, let along work wreaths, etc. One stop shopping. I know who I can and can't afford to shop with.
– Christine M –
Secret Vendor List Buyer
INVISIBLE_TEXT
INVISIBLE_TEXT
"So Much More Than Just Vendors!"
When I ordered the "Secret Vendor List", I had no idea how to get the supplies for my wreaths at discounted prices. Nancy's tips for getting my tax ID # allowed me to take advantage of savings I wouldn't have had. I am running a small business on the side of my day job. Saving where I can has made a huge difference in what I charge and what I am able to make. Knowing where to look for supplies has saved me hours of internet searching. Learning from someone with the experience and willingness to share has been great.
– Karen G –
Secret Vendor List Buyer
INVISIBLE_TEXT
INVISIBLE_TEXT
"I Don't Worry At All When Ordering Online With Nancy's Suggestions!"
I cannot describe how the "Secret Vendor List" has saved me money on my supplies. I visiting one particular vendor picking up exactly what I want. I'm not afraid to order from other vendors through this list. It is so easy to sit down at my computer in the comfort of my home as I browse websites. I am overcome with ideas for my next wreaths while enjoying their sites. Nancy's taste is impeccable, so I don't worry at all when I order online from any of her suggestions. Nancy, you and your vendor list have opened a whole new world to me. I can't wait for the release of "My Secret Vendors"!
– Beverly H. –
Secret Vendor List Buyer
INVISIBLE_TEXT
From: Nancy Alexander Master Wreath Designer Re: "My Secret Vendors" My Dear Friend, As you can see from the testimonials, buyers of the "Secret Vendor List", have LOVED this awesome resource! It has saved them time and money! They have been thrilled to have an extensive list of vendors at their fingertips with prices they can afford to pay for their supplies.
BUT NOW IT IS EVEN BETTER I Am Releasing "My Secret Vendors!"
"My Secret Vendors"
Is a Brand New eBook – Rewritten From Start To Finish!
I have added even more value!
More vendors
Better pricing
Even a few Vendors that don't require a sale tax license
Vendors that ship to Canada
Vendors that ship Internationally
Vendors who require lower minimum orders
If you're looking to design beautiful wreaths or floral designs for year-round occasions, whether just for fun, or to sell in your Etsy store, this downloadable eBook is for you. If you sell arts and crafts, or floral designs on your website, this eBook is for you. If you just want to give gifts to your family and friends, then you want to purchase this digital e-book – it is for you. Here's why… For years I quietly cleared HUNDREDS of dollars per wreath, selling high-end wreaths on eBay. Many days, UPS daily pick-ups, were loaded with 10 to 30 wreaths as they left my studio. In fact, my wreaths were often the most expensive and high-quality you could find, and women bought them in droves. One woman paid $450.00 for a wreath and and didn't hesitate to pay the $250.00 just for shipping! It was the largest wreath I'd ever made at that time—about 5 feet across—and it went to a lady who had a very tall cathedral ceiling in her mountain home located in California. She gave me a call after receiving it because she was thrilled beyond words. As a world-renowned designer, I honed my wreath-making skills to be top-notch, using only the best materials that last a lifetime. Women have gladly paid handsomely for my exclusive, one-of-a-king designs. I say this not to brag, but only illustrate what is possible designing these exquisite and charming works of art. And best of all, you can easily do it too! You see, one of a designer's most closely guarded-secrets is his or her supplier list—the exact supplies to order and which vendors to approach. My customers and clients have begged me for years to release my suppliers. But that was my secret "ace-in-the-hole." And I never made it available before… Until a few years ago. My customers loved that they could save time and money using my secret vendors!
INVISIBLE_TEXT
"More Time to Create Wreaths!"
When you can sit at your laptop or I Pad, browsing through all the beautiful florals, ribbons, etc. versus going from store to store, I have much more time to spend on creating my wreaths!
– Cecile M –
Secret Vendor List Buyer
INVISIBLE_TEXT
INVISIBLE_TEXT
"Nowhere Would We Find a Professional Sharing Their 'Insider' Information!"
Nancy, I am so grateful to you for releasing the "Secret Vendors List" to us. These are absolutely invaluable, especially to those of us just starting in the business. Nowhere else would we find a professional who would share this "insider" information. To be able to purchase such a variety of supplies at wholesale pricing is such a blessing. Previously I had to buy retail and there was less variety, with higher prices. I can't tell you how much I appreciate what this act of generosity has meant to me!
– Sharon R. –
Secret Vendor List Buyer
INVISIBLE_TEXT
INVISIBLE_TEXT
"Secret Vendor List Saved Tons of Research Time!"
Your 'Secret Vendor List' has saved me time keeping me from having to do 'research' on my own. Also, the amount of money I have saved has certainly paid off! It is my belief that your Secret Vendor List is totally complete. Also, living in Dawsonville, GA (52-miles from Atlanta) I was able to find several vendors close to where I live!
– Carol W –
Secret Vendor List Buyer
INVISIBLE_TEXT
Now you, too, can experience the thrill and joy of creating your own beautiful wreaths for less money with "My Secret Vendors.". Whether you want unique memorable gifts and treasures for loved ones that last a lifetime. Whether you want to add creative new pieces to your own store inventory or sell them online (like Etsy, Facebook, or a website, for example). Or just for the pure enjoyment of making your own decorative wreaths for all occasions throughout the year for your own home.
Now you can tap into my own secret resources with my BRAND NEW, newly-rewritten, one-of-a-kind…eBook! "My Secret Vendors" (eBook) includes:
Names, addresses, contact numbers—including emails & websites
Showroom locations, hours of operation, terms of business – including minimum orders, amounts, and shipping
Videos where I visit and interview some of my favorite vendors. You get to walk around with the owners, just as I do, as we are giving you item numbers and prices of their very BEST floral supplies – including Deco Mesh
Personal notes which include favorite items, good prices, most popular items, best bargains, and best quality
Vendor photos
Plus much, much more!
And remember, our wreaths are made better than you'll ever find anywhere else. Stems and flowers, etc. are tied in when necessary along with hot glue to make sure that they will last for many seasons to come. In fact, some of my best customers have offered for years to buy this list for over $500.00. That alone makes it a $500.00 value! But there's more. Much more… You see, I wanted to make this guide something special—something truly spectacular. So with page after page packed with step-by-step instructions, photos, and resources, you'll also discover…
How NOT to choose the wrong vendor
Why some suppliers made the cut—and some

didn't

!
The difference between good and bad vendors
Finding the perfect sales rep
Wholesale suppliers who prey on naive newcomers (NOT following this advice can cost you extra cash and lost time!)
Many lessons learned in my 30 years in the business
And much more!
Just think of what selling just two wreaths a week would do to your bottom line. At an average of $190.00 a piece, that would bring in an extra $19,760.00 a year gross! On an average, I personally sold between 6 to 10 wreaths per week, (sometimes many more), so you can imagine the profits I received from that. Add to that the value of the vendor list at $500.00, and your total value is about $14,020.00 for the first year alone!
The Secret Vendor List" is a great value at only $197.00!
Grab Your Digital (Downloadable) Copy At This Low Investment Today!
Keep?? Yes, I think so How would you like to sell a wreath for $249.97, or $269.97 in which you had an investment of only $30, or$40, or $50? WELL, YES, YES, YES, YOU CAN – YOU DEFINITELY CAN! Do you know how much of a mark-up that is? THIS IS A 600 TO 800% MARK-UP! Supplier's prices make a huge difference in your bottom line. I want to make it extremely simple for you to order merchandise and supplies from many different vendors, so you can make an AMAZING PROFIT MARGIN! As I walk around a huge 80,000 to 100,000 square foot warehouse, interviewing the owners, we are overwhelmed with the most up-to-date, popular floral supplies of the season with the best pricing available. I love showing you my favorite items, while calling out prices as well as item numbers so you can order exactly what I would like to purchase myself. Remember, I made a lot of money from eBay alone selling these wreaths. You might earn less. Or you might make more. But the point is, you get all my proprietary methods, vendors, and resources that I use to do it! But I'm a longshot from being done…
"You Mean I Get All This, And STILL There's More???"
Absolutely. In fact, there's a LOT more… You also get:
BONUS #1
"How to Shop at Your Local Craft Store "
At the heart of my success, I've learned to create
outstanding wreaths and other florals using some expensive materials from the wholesale markets, but supplementing them with low-priced florals from the local craft stores. Now, you, too, can create expensive-looking creations with less expensive, locally-obtained flowers and accents. Anyone can go into a local craft store and purchase their floral supplies. But it takes a trained eye for color, style, and price to combine those materials with quality, wholesale florals and come up with a wreath that is breathtaking.
($77.00 Value – Digital e-Book)
Bonus #2
"How to Shop at the Largest Gift Markets in the World"
Prepare Yourself for your Initial Buying Trip to a Major
Gift Market The Atlanta AmericasMart, The Dallas Market Center, the World Market Center, Las Vegas. Some of the largest, most prestigious gift and market centers in the world. These world-class showcases are dazzling and beautiful, but are they a bit intimidating for you? How would you like to go with a friend on your next trip to market? And not only a friend, but a world-renowned designer and entrepreneur? Nancy Alexander can't go with you personally, but she can accompany you through this shopping guide to those mega markets. With her tips and hints, you can come out the winner on every single trip to a major wholesale market!
($77.00 Value – Digital e-Book)
INVISIBLE_TEXT
Bonus #3
"Professionally filmed Video – How to Box & Secure a Wreath for Shipping"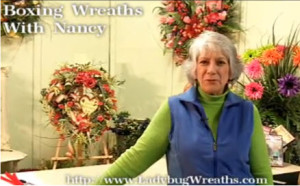 One big obstacle I ran into when I began to sell wreaths was how to ship them. I figured, planned, and experimented until I finally I knew what to do. I was embarrassed when I realized how easy it was, and that I had spent so much time trying to figure it out. So, I do know it can be an overwhelming task. Let me show you how to use these easy steps to pack your wreath securely by tying it down to the bottom of the box. I'll show you how to cut down the box, if necessary, to save shipping costs. And then we will finish up by taping in such a way that your box will not come apart during shipping. These instructions along with my box supplier and a list of my favorite size boxes will make this a very simple task instead of the daunting one it was to me in the beginning.
($27.00 Value – Digital Video)
And if you claim your copy today, I'll also throw in these FREE bonuses from my Learn Wreath Design Series:
INVISIBLE_TEXT
Bonus #4
"Deck The Halls: How to Make a Christmas Wreath"
Everyone loves to hang a bright, beautiful wreath on their door for Christmas! Let Nancy teach you how to make an exquisite wreath that will have all your neighbors talking. This eBook shows you in step by step instructions how to create the most beautiful wreath you have ever seen. And then, you get to feel the satisfaction knowing that you made it yourself. Christmas wreaths are easy to make if you know which materials to have, and which steps to follow. Why, even making a bow is easy if you learn her exclusive method of bow-making. Nancy is incredibly excited to be offering this instructional eBook, "Deck the Halls" because it focuses on a wonderful time of year – her favorite: Christmas! Whether you are new to wreath making or a faithful customer, we just know that you are going to enjoy making this wreath.
(That's a $24.97 value right there!)
INVISIBLE_TEXT
Bonus #5
"How to Make a Spring or Summer Wreath"
Spring Meadow is so much fun! It is a little smaller wreath, but very detailed. In this eBook, Nancy makes sure you know how to design a spring or a summer wreath that literally takes your breath away. It will be magnificent! As you are learning, Nancy will teach you how to anchor a bird, sitting on her nest of eggs, into the wreath very securely using sponge mushrooms. Then you will most certainly use the mixed greens Ladybug Wreaths is known for. This wreath is full of a mix of flowers and berries, and will add so much to any area of your home. Even the smallest of wreaths can make such a difference when placed in the right spot!
(A $24.97 value!)
INVISIBLE_TEXT
Bonus #6
"How to Make a Sunflower Garden Wreath"
Nancy will teach you how to create a beautiful wreath just like the one in this eBook. With her easy instructions you can create small or extra large wreaths. Nancy explains every step so that even a beginner can design a a wreath filled with large sunflowers and curled stems, lots of fruit, freshly harvested honeysuckle vine, as well as gerber daisies, and other filler flowers. You don't even have to have any experience to start using this eBook! Nancy's wreaths can be described as "wild & woodsy", "light & airy", or even full and formal. Let Nancy teach you how to design wreaths in whatever style your customers would like, and she is sure you'll LOVE designing this "wild & woodsy" wreath!
(A $24.97 value!)
INVISIBLE_TEXT
Bonus #7
"How to Make a Spring Magnolia Door Wreath"
In this beautiful Southern Magnolia wreath, Nancy reveals her secrets to making a beautiful wreath. You see, most people are surprised to see the impact a small wreath can have on a lifeless space. Nancy named this eBook "Plantation Charm" because it is full of magnolias, fruit, and much more — it simply reminds me of a Southern Plantation. Your friends and guests will notice this beauty immediately when visiting… and you will feel such pride knowing that you created this one with your own two hands. Remember, with her simple, and easy to follow instructions, Nancy Knows You Can Do This! There is absolutely NO doubt.
(A $24.97 value!)
INVISIBLE_TEXT
That's over $280 in bonuses!
INVISIBLE_TEXT
BestofNancy – Limited Time
"Access to Best of Nancy
LIMITED TIME BONUS…"
For the next two weeks only get 60 days access to BestofNancy!
Best of Nancy is a place to interact with others in our forum, ask questions, and have access to hours of video tutorials on how to sell what you make on the Internet!
This bonus is only available during our launch!
INVISIBLE_TEXT
However, I wanted to make it even easier for you to decide. That's because you're automatically protected by my… INVISIBLE_TEXT
90 Day Money Back Guarantee
Listen: I don't care if it's one hour from now, or 3 weeks from now – if you aren't happy, I'm not happy. Purchase right now. Try it out. If you like it, great! We exchanged a small amount of money for a large amount of value. Awesome! If it's not for you, don't even give me a reason why you want your money back. Just ask for it – and it will be returned promptly and quietly to you. Plus, we can still be friends. By the way, here is our support desk should you need to request a refund or need any product assistance at all with your purchase today.
You Risk Nothing & Gain Everything!
INVISIBLE_TEXT You get everything for this ridiculously low investment of $167. Please don't wait and miss out on this terrific value. Grab yours and get started shopping with these amazing vendors! Let me tell you, the confidence in yourself you'll feel when you make your first stunning wreath is priceless!
INVISIBLE_TEXT
Yes I'm In!
I want access immediately to Nancy's Secret Vendors before the price goes up!
I understand that I risk nothing and gain everything when I click on the button below and check out. When I do this, I realize I'll be getting all these great benefits:
Save money by finding the best prices on wreaths supplies
Save time by not having to research vendors
Order from suppliers with confidence!
Order With Confidence On 100% Secure Servers
INVISIBLE_TEXT
Yours truly,
P.S. You have absolutely nothing to lose because of my 90 day guarantee. And when you consider that I have thrown in 7 e-Books and countless videos, this should be a real no-brainer! So get it now while it's still fresh on your mind!
P.P.S. Can you really continue paying more money than you need to and wasting time looking for valuable vendors? Well, say goodbye to those today when you get your hands on "My Secret Vendors." With inflation and the demand increasing, I can guarantee that the price isn't going to stay this low forever. Get it now!