Notes From Nancy & Linda
Miss My Partner, Linda!  Yes, She is Back With Her Family…
We Laughed Hard and Worked Hard — So Much Fun!
Note From Nancy
The picture above shows me and Linda sitting in my office working.  YES… I know… LOL  You see five computers!  Well, we're not actually working on all of them at once.  That would be weird…you might actually think we're computer "geeks" or something!  Well… are we, Linda?  Really, I have been blessed to have an office which can accommodate several people comfortably.  So, Linda and I had plenty of space to work while she was here.
Our house was awfully quiet after Linda flew home — kinda sad.  Then, when Steve went to work the next day, the house was really quiet.  I had really enjoyed spending time with my "friend from afar"…  It led me to start thinking about how the two of us met, and grew to be partners, confidants, and amazing friends.
A friendship and partnership like ours is truly a gift from God!  There is no way two "older ladies" (ha ha…) from so many miles apart could meet, get to know each other, and then begin a business like ours, which has really become our ministry also.  We each care so deeply about each of you.  We LOVE sharing in your dreams and goals as we see you accomplish them!
Sometimes, I think we are as much, if not more, thrilled than you are when you finally see that… "Yes, you CAN sell on the Internet, you can design something wonderfully beautiful with your own two hands, and you can also earn extra money, as you sell your creations to eagerly awaiting fans."
Sure, I had lots to do that day when I was home alone.  The first thing was to begin answering email, after email, after email!  Linda and I both realized while she was here that this was becoming an impossibility for me.  There aren't enough hours in the day — no matter how hard I try to stretch them.  So, I want you to read in the post below about Amanda — the solution to many of my problems.
Note From Linda
Do you see the smile on my face?  My face was actually sore from all the pictures Nancy took!  (I haven't counted them but there were over 300 pictures Nancy downloaded to my flash drive from her camera.)
Yes, we had a great time!  It was so much fun to finally meet in person.  I felt like I knew Nancy from all our talks on Skype, webinars, and emails we have had over the last several years.  (The Nancy you know from her newsletters is the same person when you meet face to face.)
I know my mother always liked visiting us every time we moved.  She wanted to "see" where we were living.  It was wonderful to see Nancy's home, her office, meet Steve, and see her shop.  The trip completed the picture.  Now when we talk, I can see her sitting at her desk looking out at a beautiful garden complete with a squirrel that hangs upside down to steal from the bird feeder.
My home life is a bit different and not nearly so quiet.  My husband works out of the house around 4 days a week and we have three young adults living at home.  All 3 kids have different schedules.  Someone is opening the fridge at lease once every 30 minutes; food disappears at an alarming rate and most serious conversations start late also.
I have to be flexible with my work schedule.  My time with Nancy is actually my "sane" time and I look forward to seeing how the Lord will continue to bless our friendship and our business.  I prefer to be in the background working on the business plan or developing some new training, but Nancy is pushing me to get my "face" out there more.  It is a bit out of my comfort zone, but that is a good thing.
We want to help each one of you step out of your comfort zone and achieve levels of success far above your wildest dreams!  You may think that it is impossible, but we are here to tell you that it is indeed possible.  We are both here to give you the guidance and direction you need to succeed.
My Eclectic Friend Julia
I decided to pay a visit to my dear friend and neighbor this week for the sole purpose of taking a few pictures, so I could show you her eclectic style.  Her name is Julia.
Julia has her own ideas; and she marches to the beat of a different drummer.  I love visiting and talking with her. She truly has a heart of gold along with such an inviting smile.  Her head is covered with "curly, out of control locks" which have always reminded me of Shirley Temple.  You see, I have known Julia all of my life, and I remember her looking exactly like Shirley Temple when we were little.
I ride past her home everyday as I rush in and out of our neighborhood.  Riding by, I see that her front door is a different color from yesterday…there are clay pots stacked on an old stump near the road that I hadn't seen before…there are beautifully smooth, randomly stacked rocks on her brick window ledges.  I mustn't leave out the fall because there are little pumpkins everywhere – even lined up all straight in a row on the top of her mailbox.
More often than not, I see her pushing a wheelbarrow full of something she is either planting or pulling up, cutting grass, painting, or her favorite thing…playing with her three precious grandchildren.
There are many things that attract me to Julia's eclectic style, so I just wanted to share with you a few of the pictures I took at her home.
Julia has a very long hallway when you first enter her home.  She did something here that I love, and plan to do myself.  She went to a local hardware store and purchased several sheets of tin — it comes in different sizes.  Her hubby screwed them to her wall, and she found tiny round magnets from a local craft store to use with it.
Julia loves color and she loves pictures of those closest to her.  On this long wall, and in many other places in her home, she puts her MOST favorite pictures.
These are the ones that are just so special they should not be in an album.  They should be enjoyed!  She smiles as she walks past them everyday!
If you'll notice in the top picture of Julia, we are in a small bathroom.  She is smiling down at her "kitty" after pointing out to me many of her favorite cards which are thumb-tacked to her bathroom wall.  I LOVE IT!!
I am showing you all of these pictures because I want you to know there are really NO rules when it comes to decorating.  If you look on the chair above, you'll see a basket of apples and potatoes along with an Indian headdress that belongs to her grandson lying in front of a favorite book.
This long table is actually 2 tables – each 6 feet long.  They are surrounded by a collection of old, interesting, one-of-a-kind chairs.  On the far well, you'll see a project that Julia has been working on for quite a while — a tree.  As a matter of fact, Julia helped me design, and apply my tree to the wall in my studio.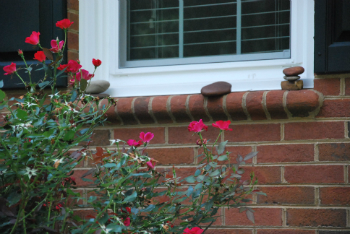 There is a point that I want to make in talking about Julia and her wonderfully eclectic style.  There really are NO rules when it comes to decorating.  If you like color as Julia and I do…use it!  Use it wherever you like.  Do what makes you happy!  Do what makes you smile.
If you love special cards as Julia and I do… thumb tack them to a wall.  If you don't have enough frames for all the pictures that are so special, stick them to sheets of tin with magnets.
Enjoy your home — it is where you spend most of your life — make it special and carefree!
This is an excerpt from a note I received from Julia after she and I spent many long hours working with me on my new tree in my studio…
"Nancy, You are a kind, generous, peaceful, strong person.  No one is asking…but if they were, I would tell them you are worthy of knowing, of having time spent with you.  You have a hidden strength that time and experience continues to fortify.  I am proud of who you are and and find it a treasure to be let in on your life of design and creation.  You are fabulous…
God has allowed you to discover a path…start to finish and still you go forward with who you are.  You, if only those women could just know your business experience, WOW!  There is no one any more qualified to speak before the Chamber.  Thank you for the time you gave to me in your studio.  I will treasure it always." ~Julia~
Julia, it is I who will treasure that time always!  Nancy
Meet Amanda
I am really thrilled with how the Lord has been blessing my business!  I really love working with all of you and am thrilled to see your successes.  You know I have been hinting at new and exciting changes that are coming soon for my business.
BUT…
There is one drawback to this success:  I am overwhelmed with all of the work my growing business is requiring.  I would LOVE to answer each and every phone call, message and email that I receive, and have been trying to for many years.  Unfortunately, these calls, emails and messages are coming in at such a fast rate now, that it is just not humanly possible to respond to each of you personally.
This has necessitated a few changes. I LOVE hearing your stories and being able to help you, but it is taking more time and strength than I have to respond.  So, I now have an assistant.  Her name is Amanda.  Really…I promise…you'll love her!
Now, this doesn't mean that I will not see every message and picture and question that you send to me.  I do want you to know that "you" mean so very much and I still want to encourage you as I keep  up with all of your accomplishments.  I want to cheer you on when your dreams come true.  This is just as exciting for me as it is for you!
Keep on sending me emails of your progress, as well as your accomplishments!  But, please understand that although I may not respond back personally, I am cheering you on and sharing your joy in my heart when I hear back from you that I have, in some way, made a difference in your life.
Amanda will start answering some of my emails and returning some of my phone calls.  Please be patient as we work through our growing pains, and as we are making these changes in our business.  Even though we have worked out the process, there could be hiccups.
There are many of you who have already heard from Amanda, and many more who may be hearing from her in the future.  I do promise you will like her!  (She is so very sweet!)
~Nancy~
PS:  If you are in BestofNancy.com, don't worry.  I will still be in the forum to answer your questions.
Another Comment From A Faithful Follower:
"Hi Nancy, I sent for your secrets last week along with a couple of videos and am having such a good time. 
Thanks to you, I think I will be able to make some spectacular wreaths for this years local hospital auxiliary's Christmas Tree Festival. 
My first wreath I made after watching you on You Tube. It didn't look like yours! I watched you 3 more times, and the next wreath was pretty good.
The complete video arrived; I watched it and Voila, the wreath is beautiful!
Thank you, Thank you. I am 74 years old and I can still learn new tricks. My husband thinks I should follow your advice and sell on Etsy. I will seriously think about it.
God bless you, Nancy. You are such an inspiration and such a wonderful artist. Thank you, Thank you!"  ~Judy~