Learn Wreath Making And Floral Design
THEY SAVED ME!!
I think by now most of you have read my story about how my life was saved! It was literally changed by a hobby that I loved and was good at – and also some amazing doctors who entered my life at just the right time! That hobby, along with my talent and a gift of the love of art, kept me going at times when I could have just as easily stayed in bed. Oh, how grateful I am that was not the case! There were so many days I could barely get out of bed and many days that I could hardly stand after getting up. So, what was I to do with myself, when I was so limited by my own body?
The days I could get up, but couldn't stand, I remembered a special love of mine, as I sat at an old drafting table in our small den. I relied on my memory of art classes taken years before. My sweet grandmother had paid for these classes after she saw several drawings and paintings I had done without any lessons. If I couldn't come up with something to paint on my own, I would pour through the many magazines I've always saved as I looked for a picture that I wanted to copy. I have a very large one propped up in my attic right now of an old circus theme with brightly colored striped tents, clowns, children, animals, and lots of balloons.
I'm not going to go into too much of my story here because you can read about My Story on this website. Why am I telling you this now? I have and am still receiving heart-wrenching emails almost daily from old and new customers alike who feel exactly the same way I did for many years.  They desperately want and need something to bring them joy — to get their minds off the pain of a chronic illness. I want to help them — I want to help you. That is the reason I believe God put me on this earth and let me suffer through many years of pain and struggles. That is also the reason, I believe, why God is blessing my business so greatly now and why so many of you are turning to me.
I am humbled, I am grateful, and I certainly do not feel worthy, but I also feel that I can help you make an important change in your life. There is joy, there is purpose, there is happiness to be found in hobbies. There is something to be said about any small thing you can do with your hands to start with, just like I did, as I began painting and then making door wreaths.
I was determined not to give up. I want to encourage and inspire you not to give up. Believe me, it would have been so very easy to!! Things happened for me when they did because I remembered a hobby that I loved and was pretty good at — so I took a chance of making it something more. That hobby grew into larger, more involved hobbies as my strength and my desire increased. Before I knew it, I was making beautiful door wreaths that were selling on the Internet for amazing prices. You don't even have to have a hobby already. You don't even have to be able to think of something you are already good at, because YOU CAN LEARN HOW TO MAKE A WREATH.  I CAN Teach You!
Hobbies, Such as Door Wreaths & Floral Design…are Strange Things.
In the beginning, hobbies really make you feel good about yourself. Then, as your talent grows,  your creations become something you can share with friends and neighbors for special gifts, birthdays, Christmases, or just to bring a little cheer, along with a smile.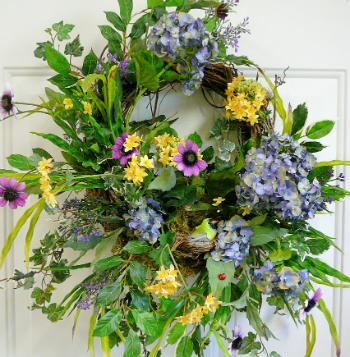 And when, or if, illness or tragedy knocks the breath out of you, that same hobby can be the support you need to climb back up, hold your head high, and face these battles with a strength from God you never knew you possessed.
I want to help you by encouraging and training you. I want you to know that you CAN change your life even though you may not be able to change your circumstances. My desire is to help you make a difference in your own lives, and believe me… I KNOW YOU CAN!
And I can help you get there. How? My Inner Circle. What is the Inner Circle? It's an online education course and community that helps creatives learn how to design and sell beautiful handmade wreaths and other crafts.
Video tutorials, training materials, and support through our Facebook group are just a few of the tools you would receive. For a complete list of all the member benefits, visit: www.NancysInnerCircle.com. I think that you'll find the value of what you receive as a member far exceeds the $19.97 per month (soon to be $39.97 per month May 1st, 2017). Check it out and see for yourself!
Learn Door Wreaths and Floral Design…
Let me help you make a difference in your life
I do know how desperation feels. I do know how you might think you'll never be able to do anything on your own again. And I DO know what depression and low self-esteem can do, as they beat you down every day. Well, we won't let that happen! If that is where you are right now, let's replace those with something fun and inspiring!
I CAN teach you to do what I am doing through my Inner Circle. I sincerely want you to feel the joy and energy I feel when I pick out flowers for a special door wreath or centerpiece. I thank God daily that I have an amazing career in selling my craft online, and that He is leading me to share that with you.
Let's work together to turn things around so that you can begin to feel good about yourself, your talent, your accomplishments, and your life. I Can't Wait! How About You?