Find Your Own Style
Learn How to Make Your Own Wreaths
This is a question I have been asked so often through the years.  WOW, I can't even begin to guess how many times!
I take your questions very seriously – I always have.  It is important to me to be able to answer each and every one of them.  I am honored that you ask and that I am blessed to be able to help you grow and develop your own style.
Here are other subjects you have questions about when it comes to designing your very own wreath.
How to sell wreaths
Selling wreaths Online
Shipping wreaths
Make wreaths to sell
What to name your wreath business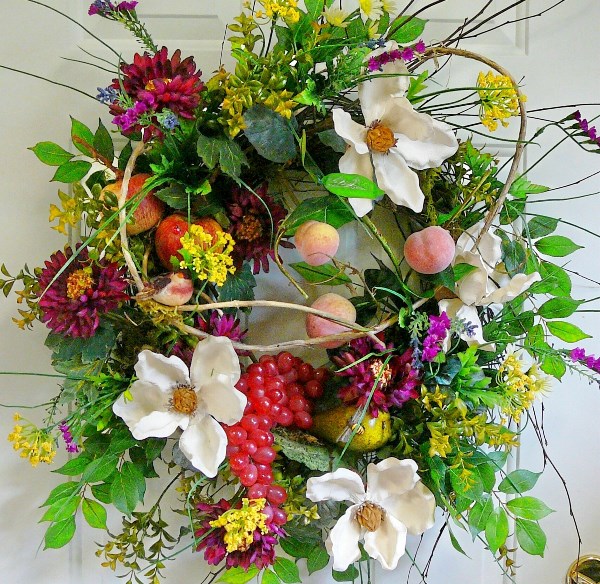 In order to help you in your quest to learn to make your own wreath, I not only need to tell you how, but I need to show you too with my entire video library soon to be available to my Inner Circle members!
My main goal and desire in this entire process is not only teaching you the basics (which you definitely need to know), but in helping you find your own style.  That is when the "light bulb" comes on and you realize – you just know – that you "have it"!
You have just created something special and beautiful from your own imagination – from colors you love – to materials which strike your fancy.  You have incorporated these materials into your wreath in such a way that is exclusive only to you. What an AWESOME experience that is!  This is when I know that I have succeeded in teaching you to make your own wreaths!  This makes me SO happy!

Your questions and your desires to create and learn were the main reasons I started filming instructional DVDs over a decade ago.  I decided that was truly the best way I could help you.  I would dearly LOVE to stand right beside each one of you and guide your hands in the beginning of this process – but that is impossible except for the few of you who get to come here for one-on-one coaching with me.
I needed to figure out a way to talk to you through a camera – and… oh yes… in the beginning I was REALLY nervous!  I kept saying to myself… I can't do this!  I don't like this!  What if I make a mistake?  What if I can't think of anything to say?
You won't believe this, but for the first video, I purchased about 20 sheets of poster paper and wrote on them what I thought I needed to say.  I was surrounded by giant CUE CARDS!  THAT WAS THE MOST HORRIBLE DISASTER!!!!!! I should have held on to the session clips that day – they would make great "bloopers" now!
The camera crew stopped me after about 20 'takes' saying this isn't going to work!  Sorry, but we're throwing away all your posters.  All we can see is your eyes going back and forth as you read – it's terrible!
So, I started again, but this time with flowers and ribbons in my hands.
That's when something magical happened!  My hands were busy – they were happy :).  Apparently my brain works much better when my hands are busy.  I started making a wreath as I explained each and every step.  I talked to you about supplies, how to use picks, how to tape stems, and how to anchor each item into your wreath so securely that it would NEVER come out!
As I worked and described each step, I also told you stories of my family, my life… me!  I showed you each and every step of the design I was working on.  I talked about past design mistakes I had made and and I even made a few right in front of the camera just for you!  (Well, you know, that is part of the learning process, right??)  giggle, giggle…
You know what?  That was okay.
You needed to know that everyone makes mistakes, not only when they are new at designing – even veteran designers. 
The key is knowing how to keep right on going as you correct each mistake; making it all come together to be a "gorgeous" finished product in the end.  I have always said that is the key to becoming a good designer – no matter what happens while you're making a wreath or an arrangement, it's knowing how to bring it all together in the end that  counts.
Well, that first day flew by as I taught so many of you how to make your own wreath.  We didn't even stop for a break.  I finished a beautiful wreath, looked at the clock, and couldn't believe my eyes.  Two hours had gone by, and I had not stopped talking the entire time… lol.
The camera men were worn out.  They couldn't believe I had kept going, and going, and going…  My friend, Linda Joseph, still calls me the "Energizer Bunny!" But what was even more impressive was they couldn't believe I hadn't stopped talking the entire time.  They said I was "a natural" in front of a camera — well, I don't know about that, but I do know that I connected with "you" that day in a way I never had before and I continue to do so in every video I record just for YOU!
From your own testimonials, you've told me this is the best, easiest and most rewarding way you can learn to make your own wreaths and floral designs.  It is a simple but fun way to make a wreath that hangs. You can give them as gifts to friends, or… even sell them on the Internet, earning extra cash as many of us do!
So… "Happy Wreathing Yall," as my friend and student, Julie Siomacco says!