"FUN WITH RIBBONS"
Volume 2
Toppers, Swags, Double Bows
Purchase The Downloadable Version
Below for $29.97
And Receive FULL Access to Nancy's
ENTIRE VIDEO LIBRARY
Plus Much, Much More!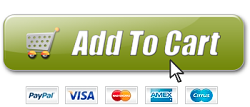 It is SO Easy to add Toppers With Streamers to a Four Foot Table Christmas Tree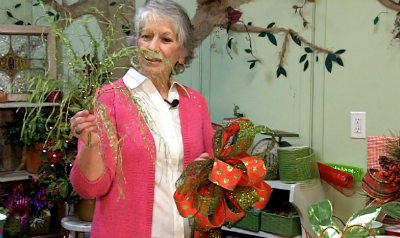 I LOVE This Glittering "Angel Hair" From My Favorite Vendor Tucked Into a Double Ribbon Bow!
Look How Pretty This Bow Looks After I Have Added Glittering Fillers!
Lamp Post, Door, Bannister & Railing Swags With Large Red Velvet Bow!
Window and Over Doorway Swags With Large Red Velvet Bows!
PURCHASE BELOW $29.97

"Fun With Ribbons" Vol. 2
is filled with bows, ribbons &
other Christmas decorating ideas!
Above is a "teaser video" containing a few clips from this
ninety minute video! It is filled with exciting ideas and instructions,
and close-up shots of each and ever step just for you!
"Fun With Ribbons" Vol 2 – Have Ninety Minutes of Fun With Nancy as We Make Bows & Ribbons Galore!!
As in ALL of my Instructional Videos, I show you in step-by-step, detailed instructions how YOU can make beautiful bows
I use 6 inch DECO MESH to make TWO XL toppers with three streamers each for a tall Christmas Tree!
I'll also show you in step-by-step instructions how to make a beautiful FULL double bow with my VERY OWN. EASY TO FOLLOW INSTRUCTIONS!
We will fill this double bow with glittery accents to be used anywhere for your Christmas decorating.
I also make two beautiful gold toppers and show you how to place them on the top of a four foot table Christmas Tree, as I show you how to tuck your streamers throughout.
We make a full red velvet bow to tie onto fresh greens you can use outside during the holiday season.
This would be beautiful on a mail box, lamp post, door, as well as many other locations!
Many of the ribbons I use were purchased from my "Favorite" supplier found in my "Secret Vendor List".
THIS VIDEO IS JUST IN TIME TO START SHOPPING FOR YOUR CHRISTMAS RIBBONS AS
YOU PLAN EXCITING WREATHS FOR FRIENDS AND LOVED ONES – WOW – WHAT
WONDERFUL GIFTS THESE WILL MAKE!
The above video shows clips from "Fun With Ribbons" Vol 1. and 2.
PURCHASE BELOW $29.97

I GUARANTEE YOU CAN DO IT!!!
MAKE SURE YOU DON'T MISS THIS AMAZING VALUE TODAY!!
NOTE: This is a digital product and you will be taken to the
download page after successful payment. Once you see the image below, wait for the
download page to appear or click the 'click here' .
This is a different type of video than the DVDs you have purchased from me before… Oh, the video is still of excellent quality, of course, and the information you receive in this video is filled with my "very best" ideas.
But, I wanted this video to be accessible to you immediately – which means: No figuring out how to download it to a slow computer No trying to save a huge file on a computer that is already full No trying to download, if you still have dial-up (yes, some do) And, I did not want you to have to order a DVD and then wait to receive it
PURCHASE BELOW $29.97

Save