It has a very busy and fun week for Nancy, Stephanie, Kim, Amanda, and Linda here at LadybugWreaths!  It's been busy because we've been filming videos, and it's also been fun because we've been filming videos… 🙂
I LOVE covering my shop and my work counter with rolls, and rolls, and rolls of ribbons!
The colors are amazing!  Metallic, glittering, and glistening styles and designs are contagious!  They make me smile!  I want to use them all at once!  There are many widths to choose from ranging from 1 1/2 inches to 21 inches!
Are you wondering why I'm telling you this — right now with just only a hint of fall in the air?  Well, this is for those of you who want to make wreaths for Christmas.  Some of you want to make them for yourself and for gifts.  Then there are some of you who run a business and are making your wreaths to sell for Christmas.
All of the retail stores now have their Christmas shipments in with their shelves already stocked.  These are stores like Hobby Lobby, Michael's, etc.  Since their shipments came in months ago, what you see right now is ALL there is!  I am warning you from experience… if you see something you really want / need, then you better purchase it NOW.
Then we have to consider wholesalers.  Their shipments arrived much earlier — even before the first of the year up until May or June.  In the wholesale business, it is still "what you see is what you get".
So, because of these reasons, I am filming my Christmas videos for you as quickly as I can.  I want you to be able to purchase your supplies, learn by these newly filmed — brand new videos, and begin making ABSOLUTELY GORGEOUS wreaths!
Nancy Recommends:
"FUN WITH RIBBONS"
Brilliant, Eye-Catching, Glittering
"FUN WITH RIBBONS"
Make a Christmas Door Wreath
How would you like to learn how to make a wreath as beautiful as this one?  Well, in "Fun With Ribbons", I will show you how.  Believe it or not, making a wreath like this is so easy, you just will not believe it!
With our video which is over an hour long, I'll show you in close-up, step-by-step instructions every single thing you need to do!  And… You'll be able to do it!  I GUARANTEE IT!
This wreath is Showy, Trendy, and Outstanding!  It is filled with all of the newer, popular colors for the Christmas season, but you can make this one with any colors!
This video is just in time to start shopping for your Christmas ribbons as you plan exciting wreaths for friends and loved ones – WOW – what wonderful gifts these will make!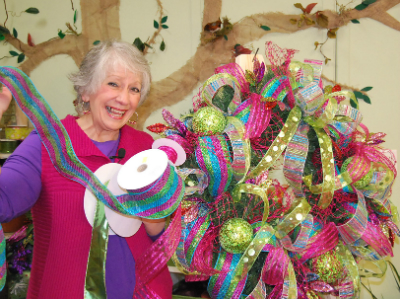 ***Limited Time Special BONUS***
For Just 7 days you will also get access to
Volume 2 of "FUN WITH RIBBONS"
WHY AM I DOING THIS?
I know that you are wanting to buy Christmas supplies while you can
and can't wait for me to make this into a separate product later.
So, I am giving Volume 2 to you for a limited time!

Ladies…THIS IS A HUGE BONUS!

You'll have an additional 70 minutes of instructions!
LOOK AT THE PICTURES BELOW TO SEE WHAT
YOU'LL FIND IN VOLUME 2!
I teach you how to make a spray like this out of fresh pine and red velvet ribbon.
Wouldn't you like one of these on a mailbox, a lamp post, or your front door? I sure would!
Believe it or not, this is one of my old Christmas Trees. I took off all of the old ribbon so I can show you how to refresh a Christmas ree with brand new ribbon. This makes your tree look brand new again! In this segment, I show you how to make 2 ribbon toppers with streamers, and how to anchor them in your tree…
I am making a double-ribbon bow with two beautiful ribbons. This really is easier than you think… Then we'll add a little something to the bow making it look pretty wherever you want to use it…
Finishing my double bow. I just love this airy, glistening filler that I add to my bow. It is so pretty!
==============================================
ALL YOU HAVE TO DO IS CLICK HERE AND YOU WILL
BE TAKEN TO THE PAGE WHERE YOU CAN LEARN MORE.
FOR A LIMITED TIME THIS VIDEO (And Bonuses)
VALUED AT $79.94 WILL BE ONLY $29.97!
 
You Don't Want to Miss Your Chance to Get in at This Amazingly LOW Price!
 YOU'LL BE ABLE TO VIEW THESE VIDEOS ONLINE,
OR YOU'RE WELCOME TO DOWNLOAD THEM TO YOUR COMPUTER,
 WHICHEVER YOU LIKE! 
(How's that for easy??!!)

NOTE: If you missed my FREE Video – Learn to Make this Wonderful Pumpkin Basket for Fall and Thanksgiving!  Soooo Easy!  Click Here…Fall Pumpkin Table Arrangement