I Love Using Christmas Ornaments to Decorate Our Home
Ornaments Only on Your Tree is a Thing of the Past!
There are so many fun ways to display your extra bulbs…, so, round up those extra ornaments! 
I'm going to share fun ideas that get us in the Christmas spirit!
In this photo, I strung ornaments across a mirror using old twine my hubby had in the garage.
Now, these ornaments were still in boxes from many years ago.  I'd gotten them for about $1 per box at a clearance sale after Christmas.  But, I just just never used them as I thought I would.
This nifty idea would also look lovely strung across a doorway, mantle, or over your bed.
You could also use brightly colored ornaments varying in type and size if you're looking for a more quirky look! This is SO much fun!!
Display spare bulbs in a dish or bowl as a centerpiece.
I used this special, antique, cake stand which belonged to my grandmother to display ornaments in colors of gold and silver… but, a fancy dish or glass vase would also look pretty!
Oh, and I also pulled out an eclectic yard sale find – a metal tiered stand with the white paint peeling off!
It turned out scrumptuous as a tiered arrangement on my kitchen island using a mix of bulbs, pine cones, and greens.  This was SO simple!
Create a custom hanging ornament chandelier.  This chic look can be hung on an outdoor hook, over a mirror, or from an actual chandelier or light fixture.
Lastly, I hung gorgeous ornaments in front of the kitchen windows.  I used a vibrant green ribbon to hang each piece which gave a nice pop of color to the vintage ornaments I used.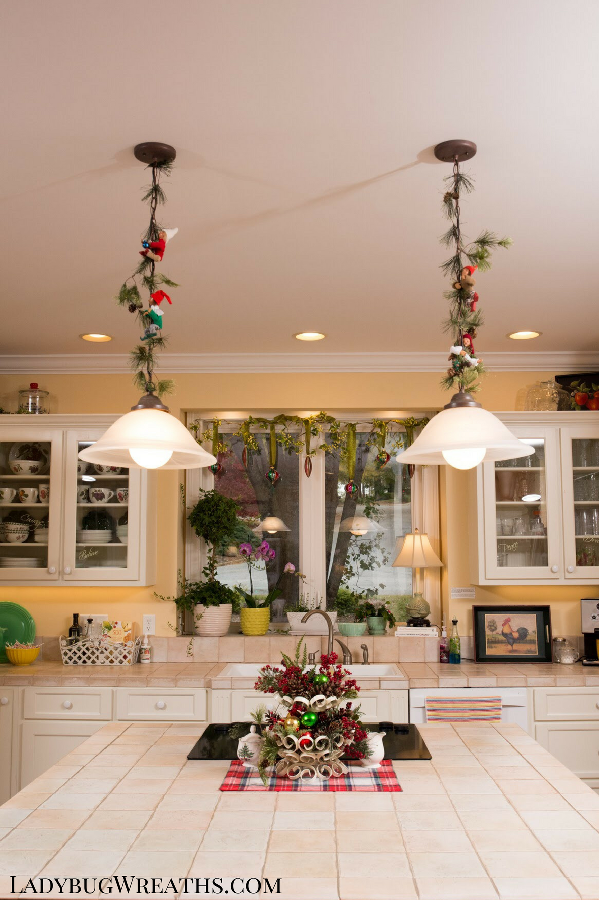 I hope these examples as well as the other photos below help give you inspiration for your own holiday decorating! 🙂
It doesn't matter what type, size, or color of ornaments you have left over after decorating your tree… I'll bet you can find a wonderful place to show them off!