Deco Mesh…Do You Like it?
Well, I Didn't at First…but now…
"Merry Christmas" Deco Mesh Door Wreath!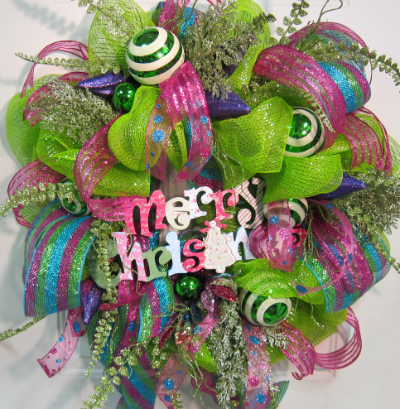 Do you like Deco Mesh? Did you like it when you first laid your eyes on it?  Well, I have to be honest here… I did not.
I was at my favorite supplier's warehouse over three years ago, when the owner insisted I follow him over to something he was obviously VERY proud of.  We walked down a long aisle, and as we turned the corner, my eyes were caught by aisle after aisle where tall boxes were filled with rolls of beautiful spring and summer colors.  Now, if you know me at all, you KNOW I LOVE color!  I believe there was every color imaginable that you could ever want!
But then I saw what was made from these beautiful rolls of colorful mesh material.  It was a wreath hanging above the boxes made out of Deco Mesh!  It was 'cute', it was certainly different, but it didn't do a thing for me.  In reality, I had experienced that very same response to many new, 'hot' items released many times before.  This was when I was searching up and down the halls of the Atlanta gift market.  And, I do have to say that after the second year of seeing that newest, trendiest, and hottest new items, I grew a little more and more interested in purchasing and trying them out.
That is exactly what happened with me and Deco Mesh.  When I went back to this same vendor for the second year, I broke down and purchased several rolls.  I made some Deco Mesh wreaths, including one for myself and hung it on my front door.  I have to admit, I got more compliments concerning that large, colorful, poofy wreath than I ever have before.  It was bright, bold, and really shown and glittered on my front door!
If you have guessed by now that I LOVE Deco Mesh, then you're certainly right!  It is eye-catching, it is fun, and I love making wreaths with it!  And… it is now the HOTTEST, NEWEST, TRENDY THING THAT HAS HIT THE FLORAL DESIGN WORLD SINCE 1981!!
Deco Mesh "Elf Christmas Cheer" Door Wreath
Just What is Deco Mesh?
That's a very good question!  One that I get asked over and over.
Deco Mesh, also known as geo mesh or poly mesh is a durable and waterproof fabric/mesh.  It will hold its shape inside and outside — even in the rain, wind and snow!  Now, that really is something to be excited about since so many want to hang wreaths outside, and have not been able to accomplish that too well up until now!
Deco Mesh comes in many sizes, colors, finishes and textures.  I have used it on wreaths, door Christmas trees, mailbox covers, mantles, garlands, and so much more.  Why, last year, my entire Christmas tree was deco mesh and I didn't even bother to pull my ornaments down from the attic.
There are so many different styles and widths.  I suppose the most usual widths are 2 1/2 inches to 10 inches to 21 inches.
Then you have work wreaths which are SO very easy to tie your mesh into.  I would use the same color as your wide mesh – probably the 21 inch size.  These work forms are light weight, very inexpensive, and have wired ropes attached to them so you can twist these around your mesh.
I always use many different ribbons from a small to large width and with different patterns such as stripes, plaid, or polka dots.  Using all of these together is SO much fun!  This is where you can really let your own personality shine through!
Personally, for Christmas I love the ones which have metallic threads running through them.  Now, these rolls are a little more expensive, but they are worth it because the mesh is thicker, and seems to hold up better.  It also seems to not fade too much in the sunshine.
If you would like to learn to make your own Deco Mesh Wreath, just check our my newly release video below:  "Deco Mesh Christmas"!
Newly Filmed Downloadable Video…
"Deco Mesh Christmas" Wreath
These are downloadable/immediately viewable videos
offered for a limited time with a special price of only
$29.97 each.  This way you can don't have to wait to
receive your DVD in the mail before purchasing supplies!
"Deco Mesh Christmas"
Deco Mesh wreaths are glittering, exciting, and trendy!  They are eye-catching, and so very different than any other floral style!  Everyone wants to learn how to make these 'showy' wreaths!  They are literally lined up ready to purchase.   I filmed this ninety seven minute video just for you to show you 'My Own Personal Style' of using Deco Mesh!  You certainly don't to miss learning this new and beautiful style of wreath design, and you'll be ecstatic at how easy making this one really is!
Limited Time Price is ONLY $29.97 for this Downloadable / Viewable Video!!
Don't Forget to Check Out the Wreaths
In My Etsy Shop!
http://www.etsy.com/shop/LadybugWreaths
Comment And Picture of a "Very" Beautiful Wreath From a "Very" Talented Student…
"Nancy is such a talented and beautiful Christian person and she makes absolutely beautiful wreaths.  So, since I, too, sell wreaths on eBay,
I signed up for her newsletters and ordered one of her wreath making videos.  It is so uplifting to watch her.  You can see how happy she is and happy with what she is doing.  Just look at her smile…What I like about Nancy's videos is that she takes her time and shows you exactly where to place every flower stem and bird's nest and honeysuckle vine when she makes her wreaths.
When you get done watching her video you are on your way to making a beautiful wreath either for your home or to sell.  Her videos make you feel like you are there in that room watching her and you can always rewind and watch them over and over.  If you would take a class on wreath design, you can't go back and see how to do a certain thing.  Once that class is over…that is it.
So, if you haven't yet signed up yet for her newsletters, make sure to do that after you watch one of her videos, or two or three, and you will be making wreaths the next day.
I saw her ribbon wreath in one of her newsletters and I loved it! So, I decided to make one which I think turned out really pretty.  I just wanted everyone to know that Nancy is a wonderful person and she will help you any way she can…and I appreciate that.  She really cares about people and helping them succeed.  So, thanks Nancy and God Bless!  ~Jan Dick~