I Love Sharing Decorating Ideas!!
I've been decorating for Christmas, and I thought it might be nice to share some decorating ideas. Steve and I take pictures of our house every year after we decorate.
Each year is different — like the year we went all out getting ready for a tour of homes, and the year we decorated just for our grandchildren, and the year I didn't decorate much at all… or even the year we put lights EVERYWHERE!
Below you'll see something very special to me.  Years ago, right after Steve and I got married, we found this old wooden box in Steve's grand-daddy's old shop.  It was filled with nails and other such junk.
Of course, I had to salvage it!  Look how beautiful it was last Christmas! I always tuck treasures in and around it every year; no two are the same!  I'm looking forward to see what I'll come up with this year!
I Owned a Business for Fifteen Years and Loved Transforming it into Christmas Every June
I was an owner of a business for fifteen years that totally transformed into a "Christmas Wonderland" shop from June to December. There were so many special things I ordered hoping that at season's end maybe one or two wouldn't sell, so that I could "bring my work home with me."
Well, I am happy (or maybe unhappy – I don't really know which) to say that happened quite a bit. It was good in the sense that I brought home some very beautiful and special Christmas decorations. But it was bad that I had them left over to bring home instead of selling them.
Don't you just love the snowman below that came home with me one year after Christmas was over?  He is precious and has been in many special spots in our home at Christmastime every since!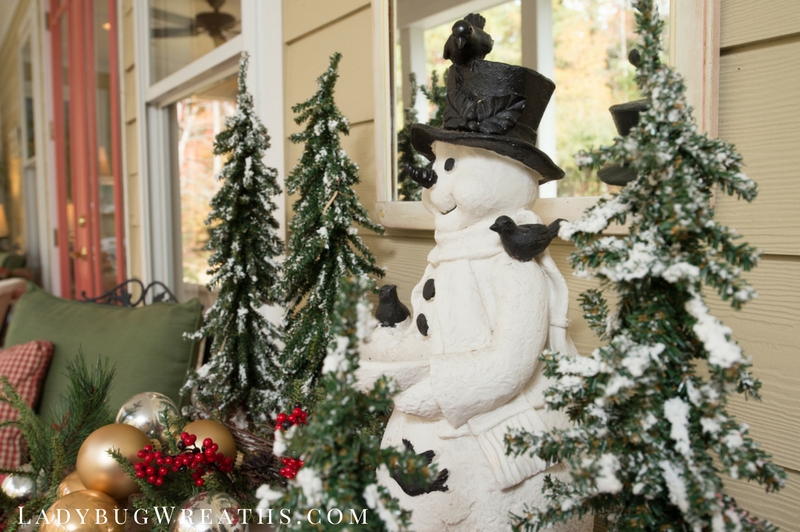 With So Many Treasures…
We never get around to using all of them. So we begin this "ordeal" each year bringing boxes down from the attic… deciding which decorations will be used and which will be taken back upstairs for another Christmas to sparkle and shine.
A must for the front of our home is a large, sparkling wreath (you can see it below), that hangs from our custom glass front doors with garlands encircling it. Behind the door you can always see our large Christmas tree filled with lights…we have no clue how many there are (we have had several strands burn out through the years, but it is hardly noticeable because there are so many left.
Our neighbors across the street give us a hard time each year when we "undecorate"… saying that we should leave them up all the time. They really enjoy the lights and the view from their home.
We Did Have a Large Back Porch…
Until we closed it in to make a new sunroom this summer. You can tell I like plenty of light. It brightens my life and my spirits.
We used to enjoy spending a lot of time out there, reading, or just sitting and talking with friends and neighbors. We always had at least one Christmas tree on the porch – sometimes more, and of course double wreaths for the double back doors – also with garlands wrapped around them.
When talking about our home at Christmas, I still talk about our back porch even though it was recently transformed to a warm, comfy and cozy sunroom!
I Hope You Enjoyed a Glimpse
Into the Alexander Home at Christmas!
Christmas Decorating is so much fun for all of us!  None of us – not even me – know what will go where until we get started. Maybe you're inspired now to add some color, ribbons, and lights to your home and yard. It really doesn't matter how much. The important thing is to have fun with your family while doing it.
While it's nice to have a home we enjoy decorating for Christmas, and it's nice to have parties to enjoy Christmas with our friends, that isn't the true meaning of Christmas for us. It is Jesus' birth…His Grace…His Love…and His Wondrous Miracles and Blessings in our lives.
I do hope each of you have a blessed Christmas. Enjoy your family and friends this Holiday Season…because they are among our Greatest Blessings from God.
Blessings,
With Love, Nancy
Speaking of Decorating…
Deck The Halls is an instructional Christmas wreath-making book that equips and encourages you to find your own unique style.
My goal and desire is to teach you the basics, in addition to all you need to assure your first wreath will be as breathtaking as this one. 
Included are tips, ideas, and a technique that I developed during my thirty years in the floral and home décor industry.
From a beginner with no experience to a professional designer, you will benefit from this beautiful, easy-to-follow book.
I start with a Christmas green base and add many loops and curls of a beautiful Christmas ribbon in addition to extra Christmas and everyday greens.
You'll learn how to securely attach a pick to a stem and make sure your "critters" such as a birds, ladybugs, nests, & bird houses are anchored securely. Also included is how to tie beautiful single, double, or triple ribbon bows which are a trademark of my wreaths. I'm delighted to share my tips and secrets with you in this beautiful book!
To purchase "Deck The Halls", Click Here!