I am so pleased to be introducing you to a lady we are celebrating in Crafter's Spotlight today. Pam Ferguson learned to start designing wreaths from her aunt. Then she found my videos on YouTube and joined Grow With Nancy.  She then signed up for our Etsy Intensives Course.
Pam is talented and working hard to grow her floral design business. She just recently filmed her own video for her Etsy shop! Congratulations Pam! ~ Nancy
Hi Nancy! This is Pam Ferguson owner of Country Meadow Wreaths. I am sending you some pictures and a story about me how I got started etc…I am Pam Ferguson and I am married been married for 15 years and owner of Country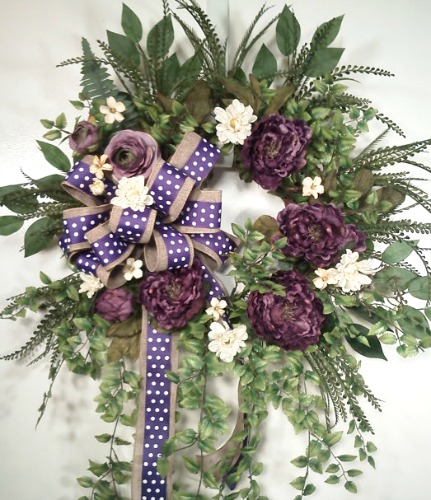 Meadow Wreaths on Etsy.
How I got started is when my aunt bought an 1889 two-story house in early 1990's and converted it into a Tea Room Business and she was a floral designer. I used to go to her business and help her decorate.  I observed how she made wreaths and flower arrangements and I just picked up how she did hers.  That's how I got started learning to make wreaths and flower arrangements.
Then over the years, I wanted to sale online and I came across Nancy's videos and then I joined Grow With Nancy and I joined Prosper With Etsy and learned a lot from Nancy and others.
God led me to Nancy and others in these groups because they have encouraged me and guided me and helped to get started on Etsy. I want to make the most out of my God given talent.
Etsy Shop | https://www.etsy.com/shop/CountryMeadowWreaths