You may be wondering why I'm writing about weakness when I'm the founder of a successful Internet business.
I receive so many emails from women battling chronic illness (like myself) while trying to succeed in the marketplace. Many subscribe to my Inner Circle or follow me on Facebook and enjoy my Ladybug Wreaths website while building their business.
So as we head into Thanksgiving, I want to encourage all of you to be thankful in your weakness. As strange as that may sound, it's an integral part of success.
Most of you know my battle with fibromyalgia, brought on by undiagnosed celiac disease, and the damage it did to my body and my marriage. Subsequently, I suffered from depression, anxiety, and panic attacks. Did I mention low self-image, as I tried to live my life and build my business? I chronicle all of this in my book, "My Journey Through Fibromyalgia: Rumors, Ravages & The Rescue."
I knew Bible verses about being content in your circumstances like Philippians 4:12 or 1 Timothy 6:6-7, but I'd never thought about actually being thankful regardless of my circumstances. After all, I had been chronically sick for decades without a diagnosis. It was hard for me to rejoice in that.
During those years I was so ill that sometimes I was bedridden, I found many Bible verses of God's love and promises. I clung to them with every ounce of strength I had left in my body. And, of course, I prayed for healing. I fought my way out of the pit of despair through my faith and dependence on God.
After my diagnosis, I made adjustments to my lifestyle, especially my diet. I can now do things I haven't been able to do in forty years. My husband and I now share a closeness filled with love and joy, but I'm not completely well. I don't say those words often, because I have come such a long way.
So you might be wondering, "Nancy, where does the weakness come in?"
Well, unless you lived with me day in and day out, you wouldn't notice my weaknesses. I could live the rest of my life hiding my insecurities, as well as the health issues I still deal with. I've wrestled with how my weaknesses fit the model of success.
I felt that until I conquered all of my issues, I hadn't succeeded. I wouldn't have run the race successfully that God put me on this earth to run. Then one morning in church, listening to the pastor's message on weakness, I finally realized how wrong my thinking had been.
I learned it takes a strong person to expose their weakness. Our culture avoids weakness. We only want to share our success. But, and this is the exciting thing, in God's kingdom, weakness is a magnet. If we show our weakness to others, then God's work in our lives is glorified and magnified by His glory. In 2 Corinthians 12:9, God said to Paul:"My grace is sufficient for you, for my power is made perfect in weakness."
Paul continues in that passage: "Therefore I will boast all the more gladly about my weaknesses, so that Christ's power may rest on me. That is why, for Christ's sake, I delight in weaknesses, in insults, in hardships, in persecutions, in difficulties. For when I am weak, then I am strong."
Do you see? I finally did! When I am weak, I am strong. God was pruning me so I could bear fruit. Jesus said, "I am the true vine, and my Father is the gardener. He cuts off every branch in me that bears no fruit, while every branch that does bear fruit he prunes so that it will be even more fruitful" (John 15: 1-2).
All those years when I prayed that God would heal me…that He would remove this illness from me, it was not His will. Instead, God used my illness — my weakness — to shape me into a person He could use. I can honestly sympathize with those of you suffering with chronic illness. More than that, if I can encourage or inspire you, my weakness is worth it.
I am happy! I have a husband that I adore and who adores me. We enjoy a beautiful family of children and grandchildren. We still face problems, but I see them as mere hindrances I'll live with as long as the Lord deems necessary. I no longer feel I'm running a race to make up for forty years I felt were lost. Those were important years which led me to an important purpose.
Thankful For Our Family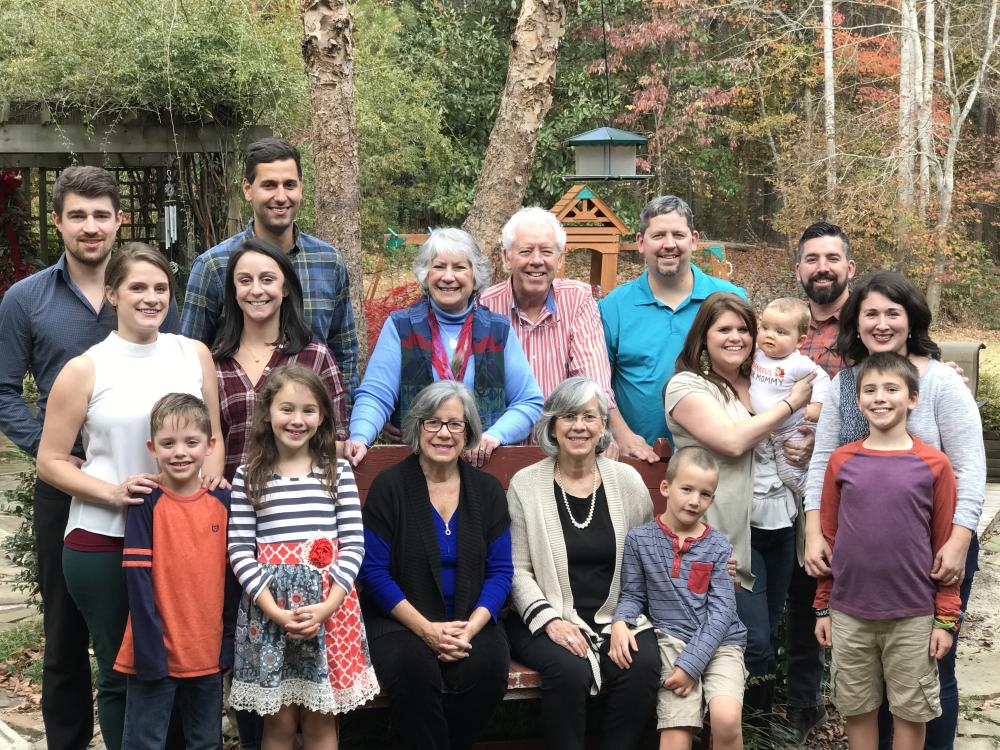 As you settle in with your family or friends to celebrate Thanksgiving, meditate on the fact that God wants to do great work in you. Pray for comfort and for healing, yes, but also ask God how your weakness can help others. Count the blessings you do have in life, no matter how big or small. Cling to God's promises for a better tomorrow.
And I heard a loud voice from the throne saying, "Look! God's dwelling place is now among the people, and he will dwell with them. They will be his people, and God himself will be with them and be their God. 'He will wipe every tear from their eyes. There will be no more death' or mourning or crying or pain, for the old order of things has passed away." Revelation 21:3-4
Happy Thanksgiving!
With Love, Nancy