Nancy's 3 Tips Will
Brighten Your Home For Spring
Springtime Surrounds Us Outside!
Today I found myself thinking about Spring and the birth and renewal it represents.  Even though it is only 54 degrees, I feel the warmth of the sun shining in my office window expecting it to warm up to 75 degrees today.  Easter is only 9 days away reminding me of God's constant Love and Sacrifices for us.
I am very thankful as I watch the birds flitting about outside my office window; day-dreaming of what today will bring.  I definitely have spring fever!
Springtime is fresh and new as our world fills with and color – lots of color!  Soft white buds have suddenly appeared covering the dark, bare limbs of the large dogwood tree beside our driveway.  Redbuds seem to frame it with their pinkish/lavender blooms, as the new green grass forms a carpet below.
Colors Burst Forth in Red-buds & Dogwoods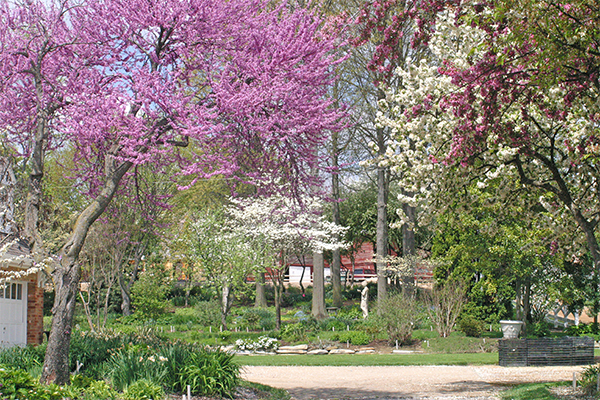 Daffodils, tulips, and day-lilies are peeking their bright green leaves out of the ground soon to be showing off their beautiful flowers.  I can't wait!  Daffodils are my favorite flower!
THREE TIPS I USE TO BRING THE OUTSIDE IN:
First Tip:  Throw Pillows Everywhere!
I have lots of throw pillows in many colors of spring.
They are very easily affordable when you go to as many yard sales as I do.  I have so many that I can switch them out for each season.
There are pillows with stripes, pillows with flowers, needle point pillows, as well as so many others!
I love putting them just in the right spots — places which normally would stay dark and dreary a while longer.  I'm ready to give these spots new life with a fresh burst of color and interest.
There is a very important thing I want you to remember when decorating your home.  Most people use most their eye-catching, colorful accents in just a few spots.  I'm talking about the living area, the dining area, and maybe a bath or a bedroom.
But, you have many other nooks and crannies I'll bet you don't pay attention to.
These unattended areas can actually make your living space look larger if you give them a little extra special attention.  Put a cute vignette or display together with similar theme items or colors.  Add a small accent lamp and your space comes to life.
Try it!  I think you'll find that your room looks even larger because you have extended the visual appeal of your space, drawing the eye to every corner.  Trust me… it really can make a huge difference!
I strategically place these colorful pillows on my back porch, mixing them into a vignette as you see here – yes, I'm ready for spring there too!
 Second Tip:  Vases, Jars, Containers Filled With Flowers!
I love picking flowers, arranging them in cute vases, old jars or containers.  They can brighten up a room so quickly with fragrance as well as color.
If you can't find any flowers in your yard, there are always wildflowers nearby – or maybe a friendly neighbor who will share!
I may ever add wild, curly sticks, greens, ivy, or whatever else I can find in my yard to add to the beautiful seasonal flowers blooming.
It doesn't matter what is in your arrangement.  It lifts your spirits, and brings a smile. I have camellias blooming right now.  I think I'll  fill up an old jar of them today!
Third Tip:  Use Floral Scraps and Pieces of Fabric
I am definitely drawn to cotton fabric in all designs and colors.  I search for old, shabby chic pieces at yard sales; these might include colorful pillow cases or even sheets (you can do so much with them)!
I go to piece goods stores searching for special vintage looking pieces which catch my eye.  They always have a table of bolt ends which are not large enough to sell at full price, but wonderful for me to tie around a pillow.
I love using these scrap pieces of treasured fabrics throughout my home.
Tie a piece around your jar of flowers on your table.  Cut a square to cover the top of a side table with the points handing off on all the straight sides.
Be creative!  There is so much you can do with these beautiful, treasured designs and patterns!
Have Fun!  I love decorating – especially in the Spring!  I love bringing out colorful table cloths which belonged to my grandmother!  I love making our living space much more exciting and inviting!  I believe that you will too!